| | |
| --- | --- |
| August 27, 2019 | Volume 15 Issue 32 |
---



The Benefits of Traditional and Additive Manufacturing from a Single Source
You can rely on 3D Systems On Demand to provide you with a full suite of advanced additive and traditional manufacturing services. Plus, we have the world-class professional expertise, resources and global support to combine the traditional with the new -- so you can enjoy the best of both worlds.
To explore the best of both worlds, download our eBook "The benefits of traditional and additive manufacturing from a single source."
Get the 3D Systems ebook.
---
---


Best-kept secret in the circuit breaker industry
When STELPRO, a Quebec-based manufacturer of integrated heating solutions for the HVAC industry, asked partners all along its supply chain to identify cost-saving opportunities, installing NOARK miniature circuit breakers in panels on all their equipment was one solution that provided long-term quality and savings (typically 30 to 50 percent in price). NOARK's five-year warranty was a huge added bonus.
Read the full article.


Experts answer retaining rings and springs Qs
Every year, hundreds of technical questions are submitted through Smalley's "Ask the Expert" page. The company's team of engineering experts answers the questions directly, but they also post them in a blog for sharing. This selection addresses some commonly asked questions about retaining rings and wave springs. Very useful info.
Read the full article.


VW rolls back time with ID. BUGGY concept
Volkswagen showed up as a real nonconformist this year at the oh-so-chic Pebble Beach Concours d'Elegance show -- which is known as a showcase and competition for some of the priciest vintage cars in the world -- by parading around its new all-electric ID. BUGGY concept. But this was not out of character for VW, who showed off their I.D. BUZZ throwback microbus concept two years ago there and announced it will hit dealers in 2022.
Read the full article.
Cool Tools: World's first 1-ms IPS gaming monitor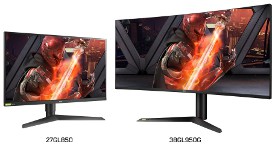 LG recently unveiled its UltraGear Nano IPS NVIDIA G-SYNC gaming monitor, the world's first 1-millisecond IPS display. Could you manage to get a little work done on it too? The Nano IPS tech aims to achieve phenomenal color reproduction, ultra-fast response time, and a refresh rate of 144 Hz, overclockable to 175 Hz. Who doesn't want blazing speed and stunning picture quality? Just made available to buy in the 27-in. (model 27GL850) for under 500 smackers. The 38-in. unit (model 38GL950G) will be available soon.
Learn more.


Engineer's Toolbox:
All about smart hybrid actuators
Hybrid drives present a practical solution when a position needs to be detected with high precision and moved repeatedly over long travel ranges, or when a target position needs to be reached with nanometer precision. Physik Instrumente gives in-depth illustrations of the different drive concepts in action using incredible motion tech being built into the world's largest terrestrial telescope on a 3,000-m-high mountain in Chile.
Read the full article.


Stainless steel mounted bearings for food applications
KML Bearing USA has just introduced a superior, hygienic design of its Stainless-Steel Stand-Out Mounted Bearings that incorporates the company's Poly-Guard IP69K Sealing System. This new design provides food-processing equipment manufacturers with a cost-effective and sanitary bearing solution. These bearings meet the criteria for clean-in-place and eradicate bacteria-harboring sites by eliminating edge seams and crevices at the bearing mounting location. A stand-out mounting configuration eliminates the need for the fabrication and welding of clearance spacers, saving time and money.
Learn more.


Ideal choice for running two linear motion systems in parallel
Bishop-Wisecarver invented the DualVee guide wheel over 50 years ago in four sizes of carbon steel as a component-based problem solver for harsh, debris-laden environments. Now it's 2019, and they offer product options that include UtiliTrak linear guides and LoPro linear actuators to complete actuated system solutions. LoPro Linear Actuators excel in high-speed, long-length, and dirty environments. UtiliTrak is constructed with DualVee Motion Technology in vee and vee/crown designs, and using MadeWell Crown Rollers it is perfect for commercial applications in need of a compact, easy-to-install, and low-maintenance solution. Both are available as part of the Bishop-Wisecarver QuickShip Program (ships from the facility within 3 business days).
Learn more.


High-precision vertical elevator stage
Optimal Engineering Systems (OES) has released two new high-precision Z-Axis Elevator Stages. The AZV9010 and the AZV9020 Motorized Z-Axis Linear Positioning Stages have vertical travels of 10 mm and 20 mm, respectively. The vertical motion of each Z-Axis Stage is driven by an 8-mm-diameter ball screw with a 1-mm lead, and guided by cross roller bearings. Very high resolutions of 0.1 micron or 0.05 microns with 10/20 micro-steps per step motor drive, and repeatability of +/- 0.5 microns, make these two Z-Axis Stages ideal for microscopy, inspection, metrology, positioning, photonics, sampling, and laser drilling and machining.
Learn more.


Get a linear shafting sample on the house
Lee Linear has produced world-class, linear motion components and linear shafting for over 40 years. With the ability to manufacture custom shafting -- threading, diameter reduction, keyways, flats, plating, and more -- to required standards in a short amount of time, Lee Linear is able to fulfill orders on time, eliminating downtime and increasing profits for its customers.
Request your sample.


Overmolding vs. insert molding
Is there a difference between insert molding and overmolding? Some argue that insert molding is a completely different process from overmolding, while others say it is the same or similar. The molding specialists over at Aberdeen Technologies have posted a blog to set the record straight. Why? Because using the terminology improperly could cause confusion for your project. A very useful topic!
Read the blog.


Get hyped about hyperMILL 2019.2 software
OPEN MIND Technologies AG, a leading developer of CAD/CAM software solutions worldwide, has introduced hyperMILL 2019.2, a new version of its advanced, comprehensive CAD/CAM software suite. The latest hyperMILL software has a range of new features, including high-precision 3D finishing, 5-axis tangent machining, high-performance turning, and new CAD-for-CAM technologies. The new version also enables more secure and simpler programming.
Learn all about the new features.


Multiphysics simulation for 5G, IOT, vehicle radar
COMSOL is excited to announce the latest advances in its COMSOL Multiphysics software to support microwave and RF engineers working on 5G, IoT, automotive radars, and satellite communications. Using COMSOL Multiphysics microwave and RF, designers can couple electromagnetic simulations with heat transfer, structural mechanics, fluid flow, and other physical phenomena, allowing them to represent coupled physics effects as they would occur in the real world.
Learn more.
---
Most popular last issue


Commentary: Bad cars -- anatomy of a ransomware attack
There have been a few real-world cases where white-hat hackers and researchers have been able to actually penetrate a car's electronics or take over the steering and acceleration systems. However, there are other scenarios that might not be as obvious or as dramatic. By Alan Grau, VP of IoT, Embedded Systems, Sectigo
Read the full article.


Good Reads: Navy ditching touchscreen controls, reverting to physical throttles
According to a new article posted by the U.S. Naval Institute (USNI), "The Navy will begin reverting destroyers back to a physical throttle and traditional helm control system in the next 18 to 24 months, after the fleet overwhelmingly said they prefer mechanical controls to touchscreen systems in the aftermath of the fatal USS John S. McCain (DDG-56) collision." The accident happened Aug. 21, 2017, in the Singapore Strait when the destroyer was overtaking the Liberian-flagged tanker Alnic MC. Ten U.S. sailors died, 48 were injured, and the vessel sustained over $100 million in damage. Very interesting. [U.S. Navy photo courtesy: Republic of Korea navy/Released]
Read the USNI article.
---
Videos+: Technologies and inspiration in action
Wow! See support-free metal 3D printing in action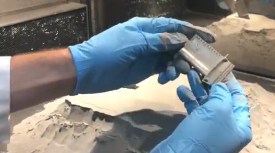 Think industrial turbine blades are too complex for 3D printing without supports? Think again. VELO3D separates itself from existing powder bed fusion solutions with its unique ability to print low angles and overhangs below 10 degrees, as well as large diameters and inner tubes up to 40 mm -- without the need for supports. This eliminates the need for post-processing and also overcomes the "45 degree rule" -- a boundary requiring supports at angles less than 45 degrees.
See it in action.
Diving deeper depths: U.S. MIA remains recovery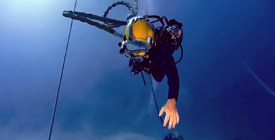 The U.S. Navy's All Hands Magazine has a great short article and video update on the Defense POW/MIA Accounting Agency's commitment to using new technology to recover remains of service members "from underwater landscapes that were previously unreachable."
"Since 2015, DPAA focused much of its energy on the USS Oklahoma (BB-37), a Nevada-class battleship that was on Battleship Row in Pearl Harbor on Dec. 7, 1941. After the Pearl Harbor attack, 429 deaths were confirmed from the USS Oklahoma. As of February, DPAA hit its first major milestone with the USS Oklahoma project, confirming a positive identity match of its 200th crewman," the article states. "While the USS Oklahoma project is still ongoing, it has been so successful that it serves as a pathfinder."
View the video and read the story.
---