| | |
| --- | --- |
| September 03, 2019 | Volume 15 Issue 33 |
---



Noisy Bearing??
Smalley wave springs are ideal for bearing preload. The wave spring preloads the bearing through its outer race, taking up play in the bearing. Preloading will reduce bearing damage, wear, noise and vibration. The wave spring prevents sliding between the rolling elements. Bearing springs come in metric sizes to match popular bearing sizes. Smalley has over 150 standard springs available, from .157" to 120". Customs are available for unique bearing sizes with No-Tooling-Charges™.
Learn more.
---
---


Expanding the Universe of Motion
MICROMO is now FAULHABER MICROMO! Now reorganized as a united, fully-integrated part of FAULHABER Drive Systems, FAULHABER MICROMO will amplify existing design and engineering capabilities. This reorganization equates to improved customer support, faster lead times on products, and additional motion control expertise for OEM customers in North America.
Learn more.


Bentley EXP 100 GT concept envisions luxe life
in 2035
When James Bond made his first appearance in an Ian Fleming novel in 1953, he drove a 1931 Bentley Blower. If 007 finally retired in 2035, he'd probably choose the EXP 100 GT. The new all-electric concept was designed and built by super-posh Bentley Motors to celebrate its 100th birthday and envision the driving experience 15 years from now. The result luxuriates in space, light, and pricey, eco-sourced materials.
Read the full article.


Cool Tools:
Fluke revamps industrial thermal camera line
Fluke has retooled its entire line of industrial thermal cameras with more premium features packed into every model, providing higher value for the customer and allowing the company to reduce the number of cameras it offers to simplify the buying process. From an industrial pocket thermal imager to a line-up of 640 x 480 resolution infrared cameras, these tools take professional inspections to the next level.
Read the full article.


Collaborative Automation: It's more than just the cobot
New to collaborative automation or thinking of adopting automation within your operation, but not sure where to start? As cobots become commoditized, learn how to maximize safety, productivity, and ROI by considering the whole application, especially for machine tending and packaging.
Learn more.


High-force voice coil motor
Moticont has added a new high-force voice coil motor to its GVCM family of voice coil motors with an internal shaft and bearing. The GVCM-095-089-03 Linear Voice Coil Motor (also known as linear DC motor) features a continuous force of 63.9 lb (284.1 N) and 202.0 lb (898.4 N) of peak force at a 10 percent duty cycle. Guided by a long-life plain bearing that can allow side loads up to 3 lb (13.5 N), the precision-ground 0.236-in. (6-mm) diameter shaft with an internal thread has a stroke length of 0.5 in. (12.7 mm). Motion is quiet, efficient, smooth, and cog-free. Ideal for clamping, work holding, sorting equipment, assembly, medical devices, antenna positioning, slide actuators, shutters, doors, valve actuation, wafer handling, and optical focusing.
Learn more.


On-Demand Webinar: Rapid vs. Traditional Manufacturing
The plastic injection molding industry and its manufacturing processes have evolved through the years. Gain an understanding of the differences between the rapid and traditional manufacturing processes and how each directly influences and impacts the outcome of parts, costs, and speed to market. When you attend this webinar, you will:

Gain an understanding of the differences between the rapid and traditional manufacturing processes
Learn about the injection molding component development process
Discover the key factors that impact getting your product to market faster
Understand the features of aluminum and steel molds

View the Xcentric webinar.


Mounting clamps for all needs
JW Winco has expanded its mounting clamps selection with new elements that ensure simpler, more optimal, and more flexible clamping of system-specific components. Since many users have utilized the twistable two-way mounting clamps GN 475 to arrange attachment rods in parallel, JW Winco was inspired to create the GN 474.1 mounting clamps with two parallel clamping holes. The new stainless steel retaining rods GN 480.3 and GN 480.5 also help make the system easier to use as their offset or angled shape eliminates the need to combine multiple straight elements. Other offerings include T-clamp, base plate, and simple swivel mounting clamps that can be assembled into a freely configurable articulated mounting solution using the clamping kit GN 511.1. A retaining magnet GN 51.6 can make mounting holes entirely obsolete.
Learn more. There are many more clamping options.


Liquid sealant can be applied in any geometric shape
DELO now offers a silicone-free liquid sealant that is fast curing and protects assemblies from dust, air, and water. DELO PHOTOBOND SL4165 is ideal for use in the automotive, electronics, and white goods industries. This new solvent-free, flow-resistant, highly viscous sealant can be applied in any geometric shape. DELO PHOTOBOND SL4165 cures by UV light or visible light in a matter of seconds without thermal influence, enabling the cured-in-place gasket (CIPG) process. This means that the sealant cures so quickly in the manufacturing process that it can be immediately assembled and compressed.
Learn more.


New polyamide 6 (PA6) compounds for metal replacement
New Creamid P Series polyamide 6 (PA 6) compounds from Teknor Apex absorb nearly one-third less water at saturation than standard grades, provide 15 to 25 percent improved tensile properties in the conditioned state, and exhibit higher flow and excellent surface characteristics, even in highly glass-filled formulations. The Creamid P series is the newest product family of higher performance specialty polyamide compounds for structural components in metal replacement applications. The compounds are based on advanced formulation technology that can be applied to lower the moisture uptake of a broad range of polyamide 6- and 6/66-based compounds. These include grades with various types and loadings of reinforcements or fillers, as well as impact-modified, toughened grades and other specialty compounds. These compounds can also employ an advanced heat-stabilization system that extends continuous-use temperature.
Learn more.


Don't miss! 2019 DFMA Forum
Boothroyd Dewhurst will host the 34th annual International Forum on Design for Manufacture and Assembly (DFMA) Oct. 1-2, 2019, at the Omni Providence Hotel in Providence, RI. The Forum is the foremost worldwide conference on product simplification and early cost estimating. It is organized for development and manufacturing teams, procurement professionals, innovation managers, and entrepreneurs across a wide range of industries. Presentations will range from DFMA implementation strategies and better ways to work with medical suppliers for quality and cost improvements to Additive Manufacturing's role in DFMA part consolidation.
Learn more.
---
Most popular last issue


VW rolls back time with ID. BUGGY concept
Volkswagen showed up as a real nonconformist this year at the oh-so-chic Pebble Beach Concours d'Elegance show -- which is known as a showcase and competition for some of the priciest vintage cars in the world -- by parading around its new all-electric ID. BUGGY concept. But this was not out of character for VW, who showed off their I.D. BUZZ throwback microbus concept two years ago there and announced it will hit dealers in 2022.
Read the full article.
---
Videos+: Technologies and inspiration in action
Tackle large or uneven loads with smart linear actuators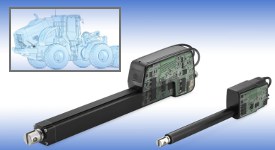 In a perfect world, your machines would always be prepared for unexpected circumstances such as large, uneven, or awkward loads. Unfortunately, these instances are more common than machine designers would like -- be it with work platforms, construction vehicles, or other industrial applications. To solve the many problems these loads can cause, Thomson smart linear actuators are capable of synchronizing automatically. Learn how this technology enables machine designs to handle problematic loads, integrate movement of multiple end points, and convert heavier loads than you ever thought possible with a single, electromechanical axis to synchronized, easy-to-control solutions.
View the video.
New insights on laser welding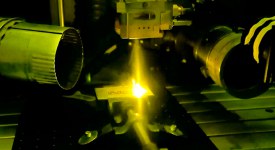 For the past three years, scientists at the National Institute of Standards and Technology (NIST) have been collecting data on the most fundamental aspects of laser welding. This information is starting to be used by computer modelers to improve simulations of laser welding processes, a necessary step to prepare the work for industry. The researchers believe that up to 25 percent of the work currently done for manufacturing using traditional welding techniques could be done more cheaply, quickly, and precisely using lasers.
View the video.
What's inside a hurricane-monitoring dropsonde?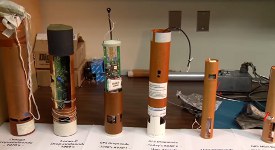 Inside a cylinder that is about the size of a roll of paper towels lives a circuit board filled with sensors. It's called a dropsonde, or "sonde" for short. It's a workhorse of hurricane forecasting, dropping out of "hurricane hunter" airplanes right into raging storms. As the sonde falls through the air, its sensors gather data about the atmosphere to help us better understand climate and other atmospheric conditions. The National Center for Atmospheric Research (NCAR) has been designing, building, and improving dropsonde tech for more than 30 years. An oldie but goodie.
View the video.
Learn about NASA's latest weather-measurement laser tech in a new 2019 video.
---