| | |
| --- | --- |
| September 24, 2019 | Volume 15 Issue 36 |
---



New Inductive Position Sensors
TF1 touchless position sensors feature advanced inductive technology. Sensors are highly accurate, robust, immune to EMI and magnetic filings. Linearity is ±0.025%, speeds to 10 kHz; operates up to 100 g shock and 20 g vibration. See technical write-up and contact us for white paper.
Learn more.
---
---


Mission-Critical Metal Bellows
Electroformed metal bellows are flexible, spring-like, precision-engineered components custom designed to fit into OEM parts or assemblies. Of the various types of bellows available today, only our patented manufacturing technology employs our premium alloy FlexNickel™. Our electroformed bellows are extremely rugged, yet lightweight. They are very effective, especially in mission-critical applications like Aerospace and Defense, where requirements demand extreme tolerances and complex geometries.
Learn more from Servometer.
---
Feature articles


Michelin and GM roll forward with airless tire design
Michelin and General Motors presented a new generation of airless wheel technology for passenger vehicles, the Michelin Uptis Prototype (or Unique Punctureproof Tire System), at the Movin'On Summit for sustainable mobility in Montreal this past June. The partnership aims to put Uptis tires on passenger models as early as 2024.
Read the full article.


New valve train design claims 20% fuel savings
Engineers at Empa, the Swiss Federal Laboratories for Materials Science and Technology, have invented a novel new valve train concept that introduces simplified tech for valve opening and closing, uses hydraulics, and saves a marked amount of fuel for automobile applications. The FlexWork valve train has been running on an Empa engine test bench since October 2018 and has survived millions of cycles in fired engine operation flawlessly.
Read the full article.


Roofing drone concept tries nailing down shingles
An octocopter capable of attaching asphalt shingles to roofs with a nail gun has been demonstrated at the University of Michigan. This aerial vehicle is autonomous, meaning that it positions the nail gun on a nailing point, places the nail, and moves to the next point without needing a human at the controls. What could go wrong?
Read the full article.


Ultra-pure 'green' graphene -- easy to use, scalable for industry
Ultra-pure graphene, produced through a "green" production process, is guaranteed metal-free and is uniquely applicable in metal-sensitive processes. Characterized by optimal electrical, thermal and mechanical performance, it is an extremely good nanofiller suitable for electronic inks, polymers, metal composites and coating. The speed and cost-effectiveness of the green mass production method promises to make graphene readily available to a wide range of industries. Applications: Potential use in heat sinks, indoor solar cells, display screens and various medical, chemical and industrial processes.
Learn more from Goodfellow.


Get 'er done with the Toyota 4Runner 2020
The Toyota 4Runner is the family-hauling, boat-towing, hill-climbing SUV that's been getting it done for five model generations since 1984. With its core DNA as a body-on-frame, do-anything vehicle fully intact, the 4Runner crosses into 2020 with a new safety package and numerous new tech, comfort, and convenience upgrades. It sports a 270-hp V6 engine and comes in six model flavors.
Read the full article.


SOLIDWORKS 2020 is here! TriMech recaps launch and runs through best new features
SOLIDWORKS hosted a live streaming event Sept. 18 to introduce the world to SOLIDWORKS 2020. Even if you missed it, you're in luck. The incredibly knowledgeable people over at SOLIDWORKS specialist TriMech have put together a comprehensive rundown of what the new product offers, including a video highlights reel, "Top 10 New Features" infographics, and a prep guide to learn about licensing and such. Learn about all the new "almost magic" tools and enhancements.
Read the TriMech recap blog.


Smart Guide to Design for Manufacturability
Learn How to Reduce Time and Cost:

Injection Molding Basics -- the basics of molds and the plastic injection molding process
Best Practices -- learn the secrets to optimizing wall thickness, drafts, runners and gates, ribs and more
Features to Incorporate -- discover the features that can be incorporated into your design to enhance your part, potentially saving time and money
Avoiding Pitfalls -- following these best practices will help you avoid costly mistakes in your tool

Get your Xcentric Smart Guide today.


Springs made of high-performance, engineered plastic provide tons of options
Lee Spring's LeeP plastic composite compression springs molded from Ultem resins provide critical advantages over traditional metal alloy springs. They feature high strength-to-weight ratio, no magnetic interference, high corrosion resistance, and dielectric insulation for non-conductive applications. They are stocked in a variety of standard sizes, each available in a "rainbow" of strengths formulated from different Ultem resins. They were designed to meet a wide range of spring applications where non-corroding, non-metallic, inert materials are preferred including medical, aerospace, marine, food prep, pharmaceutical, communications, and more.
Learn more.


Next-gen angle encoder for motion feedback
RSF Elektronik is now offering a next-generation kit angle encoder for motion feedback best suited for applications in robotics, semiconductor, medical, and machine tool. Offered through parent company Heidenhain in North America, this new encoder is available in both absolute (MCR 15) and incremental (MSR 15) versions. Both models consist of an optical scanning unit and a separate full circle drum with the graduation on the outer diameter. The new encoders are available in several sizes of drums that come with accuracies starting at 20 arc sec with up to 10 arc sec, depending upon diameter. Resolutions are also diameter-based and range from 22 to 25 bits for the absolute versions. The resolutions of the incremental versions start at 4,740 lines per 360 degrees all the way up to 27,540 for the largest diameter.
Learn more.


Etched and formed micro metal parts
Tech-Etch combines photochemical etching with precision metal bending to create extremely small formed features in thin metal parts. State-of-the-art techniques are used to form features down to .003" in a wide variety of metals. Parts range in thickness from .0005" and up. The result is that engineers get the freedom to design features in thin metal parts with few limitations. While providing quick turnaround and low tooling costs, photo etching produces burr-free parts with intricate and complex shapes. Prototypes can be delivered in five days.
Learn more.


Protect vulnerable electronics from voltage transients and lightning events
Littelfuse has released a new series of higher surge TVS Diode products in a DO-214AB package. The 8.0SMDJ series is optimized to protect sensitive electronic equipment from transient voltage induced by lightning and other voltage events. Because it combines up to 8,000 W of peak pulse power dissipation in a compact DO-214AB SMC package, the 8.0SMDJ series offers circuit designers a high-surge, space-saving circuit protection solution that can simplify printed circuit board design and improve reliability significantly. Typical markets and applications include: home appliances, consumer electronics, industrial, data centers, AC and DC protection, and PoE protection.
Learn more.


New Orbex brushless servo motors enhance efficiency
The Orbex Group, a leading manufacturer of high-performance electric motors and slip rings, now offers brushless servo motors that combine high torque, low inertia, and various customizable options to improve efficiency in dynamic servo-driven applications. Available in a range of frame sizes (60 to 176 mm), NdFeB-based brushless servo motors include incremental encoders for position feedback and electrical commutation -- enhancing motor efficiency, minimizing maintenance requirements, and increasing throughput. Customizable windings make it easy to meet your technical requirements, while integrated gear reducers reduce package size and lower overall costs. Other customizable features include brakes, additional feedback options, connectors, and custom mounting options.
Learn more.


Resources: Mindfulness for Engineers ebook
And now for something completely different. SDPSI (Stock Drive Products/Sterling Instrument), who usually concentrates on offering engineers a wide array of small mechanical components and assemblies, would like to focus on the components of your mind instead. Taking a few minutes out of your day to engage in some active meditation may well become your new catalyst for success. Plus, it's good to tune in to yourself and tune out the rest -- if only for a brief time. Get their new ebook "Mindfulness for Engineers" on the house, and let us know how it goes.
Learn more.


Good Reads: How going green is making companies money
Bloomberg has just published an interesting article titled, "Corporate America Has Found a Way to Turn a Profit Off Being Green," which recounts examples of how American companies like Walmart, United Airlines, and Nike have profited from incorporating sustainability practices into their business models. According to the article, "Sustainable decisions don't always require financial sacrifice." See, less really is more. [Image: Copyright© 2019 United Airlines, Inc.]
Read the Bloomberg article.
---
Most popular last issue


'Blackest black' material ever discovered -- by mistake
Engineers at MIT have cooked up a material that is 10 times blacker than anything that has previously been reported -- even Vantablack (from Surrey NanoSystems) that has been featured in Designfax several times. The material is made from vertically aligned carbon nanotubes the team grew on a surface of chlorine-etched aluminum foil. The material captures more than 99.995 percent of any incoming light.
Read the full article.
---
Videos+: Technologies and inspiration in action
Stratasys introduces 3X-faster industrial-grade FDM 3D desktop printer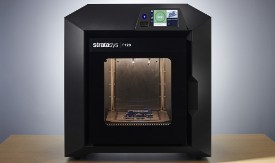 The new F120 Fused Deposition Modeling (FDM) machine from Stratasys brings industrial 3D printing to the masses, featuring simple controls, remote self-monitoring, exclusive 3D-printing hardware, and extremely high levels of reliability and repeatability. The F120 makes it simple even for the novice to get started. This 3D printer can support everything from rapid prototyping and tooling to full manufacturing. The F120 also holds up to four times more material than the nearest competitor.
View the video.
Learn more details from Stratasys.
See the FARO 8-Axis Quantum ScanArm in action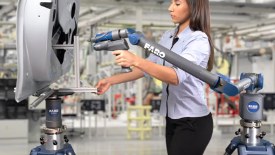 The FARO 8-Axis FaroArm system combines either the portable Quantum FaroArm, Quantum ScanArm, or Design ScanArm portfolio products with a functionally integrated, yet physically separate, 8th axis. The 8th axis is a complete rotational axis identical to and a natural extension of all FaroArm products. It plugs directly into the FaroArm and results in a seamlessly integrated, high-accuracy additional axis that requires no additional setup time or effort. Moreover, unlike a turntable, the 8th axis is completely transparent to the measurement software, so no software updates or upgrades are needed. This innovative functionality enables the part to be rotated in real time relative to the Arm versus requiring the Arm to be moved around the part. FARO RevEng software for reverse engineering available for this system.
View the video.
Learn more from FARO.
---