| | |
| --- | --- |
| October 08, 2019 | Volume 15 Issue 38 |
---



THK LM Guides Now Available for Quick Ship
Get THK world-class Linear Motion Guides fast with the new Quick Ship Program. A wide range of Caged Type (long-term maintenance-free) or Full Ball Type LM guides are stocked in the U.S. and available with 1 to 2 week delivery. Rails and blocks are individually stocked for easy and fast interchangeability. THK's LM guide lineup includes global standard sizes, wide rail types, radial types and miniature types.
Learn more.
---
---


Eliminate The Need For A Dynamic Seal
BellowsTech edge welded metal bellows can eliminate the need for a dynamic seal, when used within a bearing housing to translate rotation from an input shaft to a co-linear output shaft while sealing hermetically. Linear and angular motion for "wobble stick" applications is also available.
Learn more.
---

Feature articles

Bell unveils 360 Invictus attack helicopter
Bell Textron has just unveiled its entrant for the U.S. Army's Future Attack Reconnaissance Aircraft (FARA) Competitive Prototype program, the Bell 360 Invictus. FARA seeks a new platform to become "the 'knife fighter' of future Army Aviation capabilities, a small-form-factor platform with maximized performance."
Read the full article.

---


Wraparound conveyor runs for 5 miles
For those readers who like big-equipment applications, here's a neat one. A closed-trough conveyor belt system from Continental helps transport pit coal in China's northern Shanxi province. The incredible setup, where the conveyor actually folds over to make its own tube and enclose the material, covers a distance of 5 miles -- replacing trucking the coal and all the time, fuel, and emissions that goes with it.
Read the full article.


New device generates light from the cold night sky
A new, inexpensive thermoelectric device created by researchers at UCLA can harness the cold of space without active heat input, generating electricity that powers an LED at night. A huge benefit is that devices like this one are able to generate electricity in the dark -- when solar cells don't work.
Read the full article.


Compression Springs for Demanding Applications
Compression springs are the most common spring configuration that product manufacturers turn to when enhanced product functionality is desired. Used in automotive, aerospace, general industrial, medical and technology products, this spring type is used to resist applied compression forces or to store energy in the push mode.
Download capabilities flyer.


World's most powerful four-cylinder turbo engine ekes out even more power to 416 hp
The new Mercedes-AMG 2.0-liter M 139 engine, featured in the 2020 Mercedes-AMG CLA 45, is the world's most powerful turbocharged four-cylinder engine in series production -- and it's full of tweaked technology and entirely assembled by hand. It's produced on an innovative production line in Affalterbach, Germany, using a "One Man, One Engine" principle that's updated for industry 4.0. Every engine even bears the signature of its single builder.
Read the full article.


How to choose the best online CNC machine shop
Sourcing professionals, engineers, and designers alike need to have parts produced through technologies like CNC machining, turning, and milling. In development, the requirements may be loose to get a product validated. And in production, the expectation is that parts are made consistently, on time, and to specifications. But it is sometimes difficult to navigate through all the Internet searches and buzzwords to determine the best fit for your needs. Greg Paulsen from Xometry provides a useful guide on what to look for when selecting a machine shop.
Read the Xometry blog.


Engineer's Toolbox: How to maximize retention of spring pins
Spring pins are used in many different assemblies for a variety of reasons: to serve as hinge pins and axles, to align components, or simply to fasten multiple components together. When properly implemented, they provide reliable, robust joints with excellent retention. SPIROL Application Engineer Evan Dowell runs through the dos and don'ts of using spring pins.
Read the full article.


Hinge Selection Guide online app
The super-helpful Hinge Selection Guide online app from Reell Precision Manufacturing introduces a user-friendly resource to pinpoint ideal hinge and torque insert product solutions matching application requirements. This easily accessible tool opens an interactive window to designate an application's parameters, calculate the torque and rotational angle required for the hinge or torque insert, and ultimately identify the Reell products best suited for the job. The tool also enables users to access Reell's standard catalog products.
Click here to learn more.


How to choose an anti-backlash lead screw nut
Lead screws are the norm for today's linear motion applications, but despite their advantages over competing technologies (i.e., affordability, precision, the ability to design with freedom, reduced maintenance, etc.), lead screw systems do have a certain amount of "play." An important design consideration for utilizing a lead screw is the amount of backlash your system can tolerate and still achieve its goal. The big question is: Which lead screw nut will help you in the battle against backlash? By Christopher Nook, Helix Linear Technologies
Read this informative blog.


How to select gearmotors for conveyor applications
If you need to find a gearmotor for your belt-driven conveyor application, Bodine Electric has you covered. This informative and thorough post provides step-by-step instructions for sizing and selection -- complete with examples. Learn about reflected acceleration torque, reflected breakaway torque, and a whole lot more. Also learn the basic set of questions to answer to determine what type of motor will work best.
Read the Bodine blog.


Great Resources: ABCs of gears and more
KHK USA takes you on a journey through the history and applications of gears in two information-packed no-cost volumes called "The ABCs of Gears." Part A is aimed at beginners, while part B moves on to intermediate fare, such as types of gears and tooth forms, heat treatment, surface treatment, production methods, etc. Another mid-level text called "Introduction to Gears" and an in-depth "Gear Technical Reference" are also available, chock full of materials information and calculation examples and tables.
Click here to learn more.


Marathon stainless steel and jet pump motors from AutomationDirect
New Marathon Powerwash SXT washdown duty motors are designed for use in food and beverage processing and other washdown environments. The all stainless steel, totally enclosed motors are available in single and three-phase. C-face with rigid base (footed) and C-face footless mounting options are available. Jet pump motors are commonly used in commercial and industrial water treatment and processing applications to power centrifugal and hydraulic pumps. Marathon jet pump motors are available in single and three-phase, and in TEFC and Open Drip Proof (ODP) designs. The ODP design allows air to circulate through the motor windings for cooling, but prevents drops of liquid from falling into the motor. The increased air flow means lower operating temperatures and increased efficiency when compared to TEFC or TENV motors.
Learn more.


Emergency braking in power outages, long holding power
Miki Pulley's BXW Spring Actuated Electromagnetic Brakes utilize internal compression springs to provide power-off, fail-safe braking. The primary moving part in this robust but simple brake design is the armature plate. When actuated, the brake compression springs push the armature plate into the friction disc when power is disengaged. This feature provides fail-safe braking and allows the brake to maintain position over long periods of time, thus preventing machinery from "coasting" when powered off. Brakes are ideal for small and large applications, including use with servo motors. Additional features: quiet operation, high holding torque, space savings, long service life, stable and reliable braking power, and manual release mechanisms.
Learn more.
---
Most popular last issue


Vintage VW Beetle gets officially certified electric conversion kit
There are lots of aftermarket options for converting a vintage Bug to electric power, but now there's a VW certified one. Partnering with German firm eClassics and using Volkswagen Group Components, VW Super Beetle aficionados can now swap their internal-combustion 4-cylinder for an electric drive, experience 0 to 50 mph in 8 sec, and even free up that rear compartment where the engine used to sit.
Read the full article.


Scientists find a superconductivity secret
Researchers at Stanford University and the Department of Energy's SLAC National Accelerator Laboratory say they have found the first, long-sought proof that a decades-old scientific model of material behavior can be used to simulate and understand high-temperature superconductivity ­-- an important step toward producing and controlling this puzzling phenomenon at will.
Read the full article.
---
Videos+: Technologies and inspiration in action
How Stratasys 3D printing powers innovation at Polaris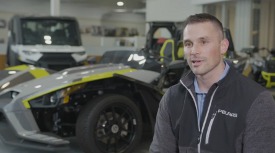 See how Polaris, maker of high-quality snowmobiles, Indian motorcycles, and some pretty extreme on- and off-road vehicles, is using Stratasys 3D printing to create innovative, efficient, and money-saving production solutions. The ability to create new tooling designs quickly is one main benefit of using additive manufacturing. This video is filled with many production-floor examples, so it is worth watching.
View the video.
1962 VW Bus gets retrofit using generative design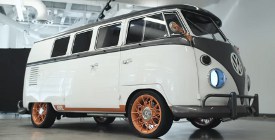 To celebrate the 20th anniversary of the Volkswagen Innovation and Engineering Center in California, the company's team of designers, engineers, and scientists wanted to "do something memorable to represent Volkswagen's DNA while pushing the future of car design forward." So the team took a classic 1962 VW Bus and retrofit it with the latest technology, including generatively designed elements such as funky wheel rims and wing-mirror arms. In generative design, a computer program solves for design elements using set parameters -- like highest strength using the least material -- and then presents its solutions, which can often look bio-inspired. Watch the process of bringing a retro icon into the digital age using generative-design tech from Autodesk.
View the video.
---