| | |
| --- | --- |
| November 12, 2019 | Volume 15 Issue 43 |
---



Robot Tools for automated manufacturing and finishing
Suhner Robot Tools are available for integration as end effectors on all types of robots for various machining and finishing operations, including drilling, grinding, filing, cutting, brushing, sanding, polishing and deburring. They bring high-level automation to your manufacturing, from large auto production lines to weld shop equipment builders.
Learn more about Suhner Robot Tools.
See Suhner Robot Tools in action.
Or contact Lee Coleman, Suhner, 706-235-8046.
---
---


New Polylactic Acid (PLA) Granules for 'Green' Extrusion and Injection Molding
New grades of polylactic acid (PLA), a thermoplastic aliphatic polyester derived from renewable resources, provide more options for product designers seeking "green" materials for product design and prototyping. The extended product range includes a variety of melt flow rate materials suitable for extrusion and injection molding. Applications range from food and dairy containers to signage to electronics housing. The granules are offered in convenient small-to-medium quantities.
Learn more from Goodfellow.
---

Feature articles

DoD: China sets sights on high-tech product dominance
China's goal is to be the technology leader in hypersonics, quantum sciences, autonomy, artificial intelligence, 5G, genetic engineering, and space by 2049, said Michael Brown, the director of the Defense Innovation Unit of the DoD, during a panel discussion Oct. 29 in Washington. This can threaten economic prosperity and U.S. military force lethality.
Read the full article.

---


Cobot is 'golden arm' for new pipe welding system
ARC Specialties has solved the challenge of creating repeatable, full-penetration pipe welds by combining artificial intelligence (AI), advanced sensors, and the UR5 collaborative robot from Universal Robots. The unique Artificial Intelligence Pipe Welding System made its debut at the Offshore Technology Conference in Houston.
Read the full article.


Download our Smart Guide to Design for Manufacturability
Learn How to Reduce Time and Cost:

Injection Molding Basics -- the basics of molds and the plastic injection molding process
Best Practices -- learn the secrets to optimizing wall thickness, drafts, runners and gates, ribs and more
Features to Incorporate -- discover the features that can be incorporated into your design to enhance your part, potentially saving time and money
Avoiding Pitfalls -- following these best practices will help you avoid costly mistakes in your tool

Get your Smart Guide today.


900-hp electric Ford Mustang concept show car has manual gear shift
Ford was full of surprises at the Specialty Equipment Market Association (SEMA) show in Las Vegas last week. For one, the company rolled out an all-electric one-off show car dubbed the Mustang Lithium. Besides some incredible power, the surprise pony car also features a six-speed manual transmission -- a real renegade move when it comes to EV design, and something new and novel.
Read the full article.
WOW. Fly with the Blue Angels over Seattle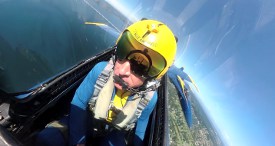 Ever felt like taking a break and just letting your mind fly for a while? Maybe now is the time. Ride along with the U.S. Navy Blue Angels as they perform impressive close-formation stunts over Seattle at the 2019 Boeing Seafair Air Show. Since 1946, the Blue Angels have flown for more than 260 million spectators. This cockpit view may bring a whole new meaning to "just roll with it" for you today.
View the video.


Alternative precision linear motion system: Faster, more accurate, zero backlash
With high speeds, incredible accuracy, and zero backlash at unlimited lengths, Nexen's patented Roller Pinion System (RPS) overcomes the limitations of conventional rack and pinion, ball screw, and belt-drive systems. The RPS offers longer life, less maintenance, 99 percent efficiency, and can run without lubrication.
Learn more about Nexen's Roller Pinion System.



Motor solutions for robotics and intelligent systems
Kollmorgen motors are optimized for fit and performance with industry-standard strain wave gearing and industry-leading torque density, enabling smaller, lighter, and faster robots. Their housed rotary servo, frameless, and stepper motors include the award-winning KBM and TBM lines. Kollmorgen has mobilized hundreds of thousands of robotic joints and arms for applications including collaborative robots, industrial articulated robots, and medical robots, as well as automated guided vehicles (AGVs) such as mobile picking/sorting robots, carts, tuggers, and self-driving forklifts.
Learn more.


Mini linear stages for precision automation
Positioning systems that not only work very precisely but are also suitable for higher loads while requiring little installation space are sought after in medical tech, biomedical engineering, or when aligning components in the laser and photonics industries; in micro assembly; and even when handling parts in industrial automation. With the L-505 series, PI (Physik Instrumente) now has compact linear stages in its portfolio that can be loaded to 30 N and are available in two space-saving dimensions: a 36-mm narrow, elongated version with direct fixed drive and a 60-mm-wide, shorter version with folded drivetrain. These compact linear stages are offered either with a DC motor or a stepper motor and with or without gearhead.
Learn more.


Allite Super Magnesium is now award winner
Weighing 33 percent less than aluminum, while also being stiffer and stronger pound for pound, the new Allite Super Magnesium alloy has shown its mettle in classified defense and aerospace applications. Now it's available for wider use. Less expensive than carbon fiber, its applications include home improvement, sporting goods, aerospace, automotive, biking, and more. Three alloy variants are available to suit welding, forming/forging, or casting. These alloys feature excellent shock-absorption properties, good electromagnetic shielding performance, good heat dissipation, and recyclability. Allite received the Award of Excellence under the Process category by the International Magnesium Association in May 2019.
Learn more.


Cool Tools:
Understanding portable measurement arms
Coordinate measuring machines (CMMs) were introduced in the 1960s to capture those complex geometries with a much higher rate of accuracy using a measurement bed, a probe, a computer, and software to operate the probe. The technology has progressed markedly since then, and portability has made these precise systems even more powerful and flexible. FARO Technologies runs through the basics of its portable CMM offerings like its FaroArm and ScanArm products, and provides a nice selection of supporting videos and articles for those newly interested in portable articulated CMM tech.
Read the FARO article.


Voice capture at 4x the distance
Texas Instruments has just introduced a new audio analog-to-digital converter (ADC) capable of capturing clear audio up to four times farther away than competing devices. The TLV320ADC5140 is the industry's smallest quad-channel audio ADC with this level of performance. The device is part of a new family of three TI Burr-Brown audio ADCs that enable low-distortion audio recordings in loud environments, along with far-field, high-fidelity recordings in any environment. Applications include high-end smart speakers, sound bars, wireless speakers, high-def TVs, IP network cameras, teleconferencing systems, and smart appliances.
Learn more.


Why Veterans Day has a special meaning to me
Another Veterans Day has passed. Many Americans had a day off, stores had the usual sales. At Arlington National Cemetery, there was a Veterans Day National Observance that included a wreath-laying at the Tomb of the Unknown Soldier. Across the country, thousands of speeches were delivered. For me, Veterans Day has a very special meaning that I share with probably a million other veterans -- the loss of a good friend who was killed in combat. By Frank Misurelli, Picatinny Arsenal
Read the full article.
---
Most popular last issue


Airbus tests hinged wing-tip technology
Inspired by the albatross seabird, Airbus engineers in Filton, UK, have developed a remote-controlled aircraft demonstrator that has semi-aeroelastic hinged wing tips. It is the first prototype to trial in-flight, freely flapping wing tips that can react and flex to wind gusts, significantly reducing load and drag for a lighter, more fuel-efficient aircraft.
Read the full article.
---
Videos+: Technologies and inspiration in action
Reverse engineering builds ultra-cool custom car parts
See how high-end "restomod" auto shop Kindig-It Design uses reverse engineering technology including Geomagic Design X and the FARO Design ScanArm, plus some 3D printing from 3D Systems thrown in, to create super-cool custom parts faster for cars featured on a popular MotorTrend show. If you can dream it, they can probably make it.
View the video.


How Nord-Lock washers work
Can you get a design and functional edge with a wedge? In this animated video, Nord-Lock explains the principle behind their original wedge-locking technology, which secures bolted joints -- even when exposed to severe vibration and dynamic loads. The company says it is impossible for this washer type to loosen unintentionally, due to the wedge created underneath the bolt head and nut.
View the video.


---