| | |
| --- | --- |
| December 03, 2019 | Volume 15 Issue 46 |
---



Low-Profile Retaining Rings
Smalley Hoopster® Rings fit into shallower grooves than regular snap rings or retaining rings. Where retaining rings once were not an option because of groove depth, the low-profile, precision circularity, and small radial size allow the Hoopster to be an unobtrusive component in the assembly, ideal for thin wall tubes. Easy to install without special tools, Hoopsters are stocked from 3/8" to 3" in carbon and stainless steel. No-Tooling-Charges™ on customs.
Learn more.
---
---


Expanding the Universe of Motion
MICROMO is now FAULHABER MICROMO. Reorganized as a united, fully-integrated part of FAULHABER Drive Systems, FAULHABER MICROMO has amplified existing design and engineering capabilities. The reorganization equates to improved customer support, faster lead times, and additional motion control expertise for OEM customers in North America.
Discover what's possible when legacies unite!
---
Feature articles


NASA designing shapeshifting robots for Saturn's moons
Mini robots that can roll, fly, float, and swim, then morph into a single machine? Together they form Shapeshifter, a developing concept for a transformational vehicle to explore treacherous, distant worlds. The concept is being tested in a dusty robotics yard at NASA's Jet Propulsion Laboratory in Pasadena, CA.
Read the full article.


Engineer's Toolbox:
Slip clutches maximize designs
The way they see it over at Polyclutch, there aren't a whole lot of problems you can't solve with a slip clutch. Way beyond using them for overload protection, there are a surprising number of other applications for these versatile and valuable components. From increasing machine speeds and applying constant tension on wire to indexing a conveyor and automatic screw assembly, slip clutches just may provide the design leverage you've been seeking.
Read the full article.


Sikorsky unveils RAIDER X light-attack copter
Meet the future of vertical lift: RAIDER X. Sikorsky's entry to the U.S. Army's Future Attack Reconnaissance Aircraft (FARA) program competition is a fast-flying (almost 290-mph), agile, and lethal compound coaxial helicopter that has been specifically designed for securing vertical lift dominance against evolving threats on the future battlefield. Bell Textron and a partnership between AVX Aircraft and L3 Technologies have already released their two attack-copter prototype entries.
Read the full article.


Mike Likes: ClampDisk micro fastener is new alternative for automotive and consumer electronics
Designed as a unique alternative in assemblies for the automotive and consumer electronics markets, the ClampDisk Press-on Fastener is a new offering from PennEngineering that delivers a fast, simple way to achieve sheet-to-sheet clamped attachment while replacing the use of standard screws, nuts, and adhesives. The most common challenges that can be eliminated or reduced by using ClampDisk include over installation, cross threading, stripped screw heads, broken screws, and damaged product. This fastener can be removed easily with a sharp-edged tool.
Learn more and see ClampDisk in action.


Goodfellow introduces three forms of multi-walled carbon nanotubes
Goodfellow has just made Multi-Walled Carbon Nanotubes (MWCNTs) available in three different forms: regular powder, "chunky" powder (exclusive), and free-standing "carpets" (exclusive). All three forms are produced by means of a catalytic chemical vapor deposition (CCVD) process. Carbon Nanotubes are tube-shaped materials composed of carbon atoms covalently bonded in a hexagonal network, having a nanometric diameter. As an additive in composites, they can improve the mechanical, thermal, or electrical properties of a material, offering benefits such as high electrical conductivity, good processability, flame retardancy, thermal dissipation, UV resistance, and more. Contact Goodfellow for recommendations on which form of this remarkable nanomaterial is right for your goals and applications.
Learn more.


EV automotive fuse safely interrupts up to 1000 VDC
High voltages and high currents occur in electric vehicles in numerous places. Their battery packs with several thousand rechargeable cells store enormous amounts of energy in order to provide for the demands of drive performance and distance, with the shortest possible charging times. Such applications require highly reliable fuses to safeguard this power. SCHURTER has just launched its AEO 10.3 x 38 mm mini-fuse series, particularly suited for battery protection in electric vehicles. The AEO series safely interrupts short-circuits up to 20 kA at 1000/800 VDC, with a current rating range of 10 to 50 A. SCHURTER's new, patented contact welding process guarantees the highest reliability and overcomes inherent weaknesses in solder joints.
Learn more.


World's smallest image sensor
The OV6948 from OmniVision Technologies is the new winner of the Guinness World Record for "The Smallest Image Sensor Commercially Available" at a diminutive 0.575 x 0.575 mm. The company developed the tiny sensor to address the market demand for decreased invasiveness and deeper anatomical access in medical devices. OmniVision also offers the companion OVM6948 CameraCubeChip, a fully packaged, wafer-level color camera module measuring 0.65 x 0.65 mm, with a z-height of just 1.158 mm -- shown here next to a single peppercorn. The OVM6948 is the only ultra-small "chip on tip" camera with backside illumination, which provides excellent image quality and better low-light performance.
Learn more.


Specialty hinges expand design possibilities for opening and closing
From the simplest of hinges to multi-joint hinges with complex kinematics, the JW Winco selection has everything needed for superior door and flap solutions -- including extra functions. Popular choices include the heavy-duty stainless steel GN 237.3 with 180-degree range of motion and the GN 235, which can be mounted with socket head cap screws and -- thanks to its offset axis -- still swivels 180 degrees without collision. Additional functionality is offered by hinges with variable friction, and in another Winco-Norm part, an integrated spring ensures independent return of the hinge. This special product range, which also includes integrated damping, indexing, and locking functions, is being continually expanded by Winco. One kinematic highlight is already available from Winco: the multiple-joint hinge with either a 4x, 7x, or 10x joint mechanism, which opens flaps and shifts their position at the same time, while still offering 180 degrees of travel. Many more options.
See the full range of JW Winco hinges.


Smart actuators deliver on the promise of
Industry 4.0
As Industry 4.0 initiatives bring more and more industrial axes of motion into the realm of automation, the need for cost-effective control across them grows as well. Consider, for example, industrial tasks such as raising or lowering a conveyor to handle cartons of various sizes. If such adjustments are needed only a few times a day, automation with conventional technology would be difficult to justify. Automating such intermittent operations with pneumatic cylinders, for instance, would require costly infrastructure and elevated maintenance costs while providing only limited control capability. Today's smart electromechanical actuators, however, enable designers to automate intermittent operations affordably by embedding functionality that has previously required an external infrastructure.
Read the Thomson article.


New advanced materials for production-grade 3D printing
Stratasys recently unveiled several new durable temperature- and chemical-resistant FDM thermoplastics aimed at addressing the growing demands of engineers and designers to deliver production-grade, custom 3D-printed tooling and parts. Suited for aerospace and industrial applications, the new Antero 840CN03 PEKK-based polymer with ESD properties can create strong yet lightweight parts used in frames, panels, and components. Built for highly durable tooling applications, Diran is a new nylon-based FDM thermoplastic that provides manufacturers with extreme toughness and low friction, combined with resistance to hydrocarbon-based chemicals and a smooth surface to offer low sliding resistance. Diran's toughness is able to withstand the rough handling of tools often common in a manufacturing setting.
Learn more.


LEGO mega excavator is HUGE fun
If you are a huge LEGO fan, the company has a new model to build that matches your big-time enthusiasm. The LEGO Technic Liebherr R 9800 set lets you construct a massive 2-ft-long working model of one of the largest excavators in the world -- and you can control it with an app when done. Featuring 4,108 pieces total, 427 LEGO Technic connectors, seven motors, and two Bluetooth smart hubs, the mega LEGO machine won't lift the 80 tons of material that the real machine can with one scoop, but you can make it do plenty. First you have to build it, though, and that really is the most fun of all.
Learn more.
---
Most popular last issue


Diesel gets way cleaner with new injector technology
An engine innovation first conceived and tested by Sandia National Lab has attracted the attention of big business because of its potential to eliminate between 50 to 100 percent of diesel soot emissions and maintain or improve engine performance. The idea for ducted fuel injection came from studying a simple Bunsen burner.
Read the full article.
---
Videos+: Technologies and inspiration in action
West Coast Customs uses Artec Eva scanner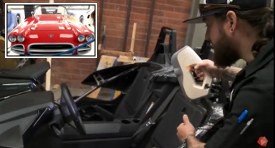 Watch as world-famous car shop West Coast Customs kicks it into high gear using the Artec Eva handheld scanner. Their motto is, "Make custom car builds that nobody else can." The shop's recent high-profile projects include the Star Trek Slingshot Vehicle, the Black Panther Lexus, and the West Coast Racers rollercoaster/Six Flags. To stay ahead of the competition, West Coast Customs uses the Eva scanner (Artec's most popular model) to make their work faster and more precise, and to reverse-engineer unique and rare car parts. They can also capture difficult-to-scan surfaces, like shiny frames or hoods. How do they make cool look so easy?
View the video.
Why do forward-swept wings exist?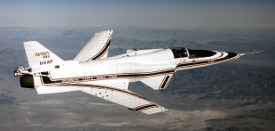 The folks over at Real Engineering take an in-depth look at the unconventional design of the Grumman X-29 experimental aircraft (first flown in 1984), which featured a forward-swept wing configuration made in part of composite materials. Earlier German backward (and often unstable) wing designs are also discussed, as well as Soviet attempts to use this counter-intuitive technology. The design all starts to make sense when you consider the high-speed and high-angle attacks used by fighter jets. According to NASA, the X-29's "complex geometries of wings and canards combined to provide exceptional maneuverability, supersonic performance, and a light structure."
View the video.
---