| | |
| --- | --- |
| December 17, 2019 | Volume 15 Issue 48 |
---
---


Download our Smart Guide to Design for Manufacturability
Learn How to Reduce Time and Cost:

Injection Molding Basics -- the basics of molds and the plastic injection molding process
Best Practices -- learn the secrets to optimizing wall thickness, drafts, runners and gates, ribs and more
Features to Incorporate -- discover the features that can be incorporated into your design to enhance your part, potentially saving time and money
Avoiding Pitfalls -- following these best practices will help you avoid costly mistakes in your tool

Get your Smart Guide today.
---

Feature articles

New bullet design works under water
Like something right out of a James Bond movie, a Norwegian company called DSG Technology has invented a special bullet that can work under water. The technology uses supercavitation, where the design of the projectile creates a bubble around the bullet as it travels through water, reducing drag and enabling high speeds.
Read the full article.

---


3D Printing: A guide to getting started
Successful adoption of 3D-printing technology and techniques requires preparation and a degree of finesse. If you've been wondering how to implement 3D printing into your design process, here are some solid recommendations to get started.
By Jesse Marin, Design Services manager, Stratasys Direct Manufacturing
Read the full article.


New 'hyper glue' formula works at molecular level for plastics
Researchers from some of Canada's top universities hope to make everything from protective clothing to medical implants and residential plumbing stronger and more corrosion resistant thanks to a newly developed 'hyper glue' formula. Their glue bonds plastics and synthetic fibers at the molecular level in a procedure called cross-linking.
Read the full article.


Ultra-thin wire for microfabricated devices
Wire as thin as 0.6Ám is ideal for use in microfabricated devices such as integrated circuits, microelectromechanical systems (MEMS), solar cells, microfluidic devices and thermal probes for biomedical applications. Wires are available in a variety of diameters and conditions, and in lengths from a fraction of a meter to large production runs.
Learn more from Goodfellow.


Jaguar F-Type gets redesign for 2021 model
Even car lines get a nip and tuck sometimes as they get a little older. That's true for the Jaguar F-Type coupe, which gets a face lift and some tech upgrades for its 2021 iteration. The two-seater sports car in its F-Type R version will do 0 to 60 mph in just 3.5 sec thanks to its supercharged V8, and it will look sleek and refined every inch of the way.
Read the full article.


Top Tech Tip: Low-profile retaining rings
Smalley Hoopster® Rings fit into shallower grooves than regular snap rings or retaining rings. Where retaining rings once were not an option because of groove depth, the low profile, precision circularity, and small radial size allow Hoopsters to be unobtrusive components, ideal for thin wall tubes.
Learn more.


NASA engineers burst world's largest rocket fuel tank
Engineers at NASA's Marshall Space Flight Center in Huntsville, AL, deliberately pushed the world's largest rocket fuel tank beyond its design limits to really understand its breaking point. The test version of the Space Launch System rocket's liquid hydrogen tank withstood more than 260 percent of expected flight loads over five hours before it exploded.
Read the full article.


Precision dispensing for micro-electronics
The spread of miniaturization in automation has led to an ever-increasing demand for optimum dispensing of the tiniest volumes. Whether in electronics or micro-mechanical engineering, solder pastes, adhesives, lubricants, and 3D-printing filament must be applied or extruded precisely where needed, in exactly the right dosage and without spillage or dripping. Compact, high-torque DC motors deliver the precision and small size needed for such a challenge.
Read the full article.


World's smallest high-resolution LiDAR
Intel has just introduced the RealSense LiDAR camera L515, the world's smallest and most power-efficient hi-res unit. Designed for indoor use, the palm-sized solid-state camera creates entirely new ways to incorporate LiDAR into smart devices to perceive the world in 3D. It provides high-quality performance and millimeter accuracy to products that require vision capabilities, such as inventory management automation, 3D scanning, healthcare, retail, robotics, and more. This device can generate 23 million accurate depth points per second.
Learn more.


OnRobot's One System Solution grippers receive UR+ certification
With the One System Solution launched this fall, OnRobot disrupted the end-of-arm-tooling (EoAT) industry, presenting a full line of intelligent grippers and sensors with a unified mechanical and communications interface. The innovative approach allows for quick plug-and-play tool changes and fast and easy programming across multiple production lines and applications. The One System Solution grippers are now also part of the UR+ program that tests and certifies EoAT products for seamless use with cobots from Universal Robots. Additionally, the URCap software automatically identifies the OnRobot tool that is mounted on a UR robot, so a variety of OnRobot products can be used effortlessly.
Learn more.


Siphon-fed spray nozzles for non-pressurized liquids
EXAIR's new 1/8 NPT siphon-fed spray nozzles atomize fluids in a range of spray patterns for a wide variety of uses. These are EXAIR's smallest air atomizing nozzles and are suitable for tight spaces. Siphon-fed atomizing nozzles require no liquid pressure and can be used with gravity-fed liquids or lift liquids from a siphon height as much as 36 in. (91 cm). They combine liquid and compressed air to create a mist of atomized liquid that can be easily adjusted to meet the needs of your application.
Learn more.


Fasteners: The aliens have landed. Lock 'em up.
It looks "alien," but it's the ultimate in box-security fasteners. In fact, the Alien Lock from Micro Plastics is the first and only dedicated box fastener. It is a much less expensive solution than banding or taping your boxes, and it keeps them more secure too. It's easy and fast to insert, and it's incredibly strong. It cannot be pulled out without it being obvious that the box was tampered with -- it must be cut off. This is a 1-step fastener: Push Alien Lock through the lock port, and the locking process is finished.
Learn more.


hyperMILL CAM software gets additive mfg capability
CAD/CAM software solutions developer OPEN MIND Technologies now offers an ADDITIVE Manufacturing (AM) capability option in hyperMILL CAM software to support 3D printing/additive processes. hyperMILL with AM also provides efficient hybrid processing with simultaneous additive and subtractive processing on one machine. For highly complex 5-axis simultaneous processing, hyperMILL AM enables an array of flexible options for Directed Energy Deposition processes (DED) and Wire Arc Additive Manufacturing (WAAM). Both laser-based powder nozzle machining heads and WAAM can be controlled using hyperMILL AM for selective material deposition, as well as conveniently programmed and automatically simulated for collision avoidance.
Learn more.
---
Most popular last issue


Ford Bronco R race prototype is sneak peek at new production model
The Bronco is set to be reborn in 2020, and Ford gave us a sneak peek (although a cryptic one) of what it may look like recently when it entered the Bronco R race prototype in the punishing Baja 1000 off-road race. Specially developed by Ford Performance, the heritage-inspired design gave a hint of the new vehicle's boxy proportions and was built using the upcoming production model's body-on-frame architecture.
Read the full article.
---
Videos+: Technologies and inspiration in action
All about extension-spring manufacturing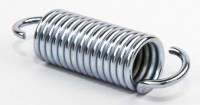 Extension springs are used for applications where a very precise amount of force at a certain deflection is needed. They can be pulled from 1 to 100 in. See the manufacturing process at Atlantic Spring/MW Industries. Learn about springs big and small, and the wide array of materials available and their key properties. Plus, it's always fun to watch stuff being made.
Watch video.
Metal 3D Printing: Sciaky EBAM quick take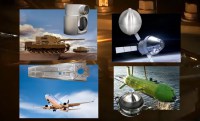 Take a quick 1-minute peek at Sciaky's game-changing metal 3D-printing technology: Electron Beam Additive Manufacturing (EBAM), the industry's leading solution for producing large metal parts. EBAM can produce high-quality, large-scale metal structures -- up to 19 ft in length -- made of titanium, tantalum, and nickel-based alloys in a matter of days, with very little material waste. Used by some of the world's most advanced manufacturers, EBAM has approved parts in land, sea, air, and space.
See it in action.
---