| | |
| --- | --- |
| January 28, 2020 | Volume 16 Issue 04 |
---
---


Download our Smart Guide to Design for Manufacturability
Learn How to Reduce Time and Cost:

Injection Molding Basics -- the basics of molds and the plastic injection molding process
Best Practices -- learn the secrets to optimizing wall thickness, drafts, runners and gates, ribs and more
Features to Incorporate -- discover the features that can be incorporated into your design to enhance your part, potentially saving time and money
Avoiding Pitfalls -- following these best practices will help you avoid costly mistakes in your tool

Get your Smart Guide today.
---
Feature articles


Update: New vertical lift capabilities take flight during Army demo
Army officials joined industry leaders earlier this month to get a closer look at cutting-edge capabilities for future vertical lift to replace the UH-60 Black Hawk. Developers from Bell Textron demoed their part-aircraft, part-helicopter Bell V-280 Valor. Another helo mock-up, the Sikorsky-Boeing SB-1 Defiant, is expected to flex its muscles and show further airlift capabilities next month at Sikorsky's facility in West Palm Beach, FL.
Read the full article.


Top of Audi Q line is powerful mashup of racing coupe and SUV
If you are looking for a high-end and sporty V8 coupe that is also a little SUV, Audi has a 600-hp mean machine for you that is coming out later this year. The all-new RS Q8, the top model in the Q product line, is the first RS-SUV from Audi in America and a true hybrid mashup of power, style, and serious attitude. It's expensive -- and it looks like it knows it.
Read the full article.


Engineer's Toolbox:
7 ways to improve sheet metal parts
When designing sheet metal components, there's a lot to consider: bends, reliefs, offsets, hems, holes, slots, tabs, and inserts -- not to mention material and finishing options. The engineers at Proto Labs take a quick look at the different ways to improve sheet metal part design while creating cost-efficient components. Learn some great tips.
Read the full article.


Selectable voltage power supply for static eliminators
EXAIR's new Gen4 Two-Outlet Selectable Voltage Power Supply allows you to choose input voltages of 115 or 230 VAC. Two 5-kV stainless steel output connectors can energize two static eliminators. Applications using up to two Gen4 Super Ion Air Knives, Ion Air Guns, Ion Air Cannons, Ionizing Bars, or any other EXAIR Gen4 static eliminator product can be connected to one power supply. Like all EXAIR Gen4 products, these two-outlet power supplies are UL component recognized, CE and RoHS compliant.
Learn more.


Perovskites: Ideal for optoelectronic applications
Goodfellow has just announced the availability of their new range of Perovskites, a group of materials that demonstrate great potential for optoelectronic applications. Perovskites have a unique and versatile crystal lattice structure that is characterized by special properties like superconductivity, magnetoresistance, piezoelectricity, and dielectric and pyroelectric behavior. Therefore, Perovskites are excellent candidates for multilayer capacitors like fuel cells, solar cells, sensors, and electric batteries, or even next-generation display screens, LEDs, memory devices (RAM), and high-temperature superconductors.
Learn more.


Simplified Doppler radar sensor module
Fujitsu Components America has introduced a 3-channel, 24-GHz Doppler radar sensor with a wide speed-detection range and high interference tolerance. The module and evaluation kit can facilitate the rapid development of various non-contact movement-sensing products -- even without high-frequency RF electronics expertise. Target applications include human vital sign and fall monitoring, structural and mechanical movement detection, machine maintenance, and more for healthcare and industrial markets.
Learn more.


Gearless speed reducers with traction drive tech
Stock Drive Products/Sterling Instrument (SDP/SI) has introduced new speed reducers with traction drive technology. Featuring a gearless drive, these speed reducers are highly efficient and feature only six moving parts. They use engineered traction fluid to cool and lubricate. As the driving and driven elements interface in the drive, the traction fluid regularly changes from liquid to solid and back to liquid, generating less heat than conventional drives. Years of development and testing have been invested in this new technology, resulting in a product featuring infinite ratios up to a ratio of 5:1, dramatic reduction of motor torque ripple, low vibration and noise level, and significantly less maintenance than a conventional gearbox.
Learn more.


More than 1 million MDrive integrated motors sold
Since its initial launch almost 20 years ago, the MDrive integrated motor family from Schneider Electric has moved stepper motion control tech to a new level, increasing accuracy while providing additional benefits in a compact package. What began with reducing the electronics package size to fit onto a stepper motor using surface-mount technology and application-specific integrated circuits (ASICs) has expanded to include features previously unavailable on stepper motors. The latest MDrive products offer closed-loop performance, velocity control, energy savings, and a range of standardized communication choices including Ethernet TCP/IP and CANopen. Numerous options and accessories are also available, including absolute encoder, captive shaft electric cylinder, gearboxes, and more.
Learn more.


Cool Tools: Measure up to 99 dimensions in seconds
The IM-7500 Image Dimension Measurement System is Keyence's latest addition to its Instant Measurement System series. This next-generation optical comparator includes an automatic measurement function that enables all settings to be completed with one click, the ability to record all measurement results and create reports automatically, and an intuitive interface that involves simply placing the part on the measurement stage and pressing the "Measure" button. Significantly, no measurement expertise is needed to operate the IM-7500, with measurement points automatically identified, consistent values delivered through automatic focal adjustment, and different parts identified and measured without having to change profiles.
Learn more.


Make a LEGO International Space Station
LEGO has just come out with its Ideas International Space Station, packed with authentic details. Based on a concept from a LEGO fan, the new 19-in.-wide model contains 864 pieces, including the iconic space station itself and a LEGO brick-built NASA space shuttle with three mini cargo spacecraft and two astronaut microfigures, making this a must-have kit for space enthusiasts and adult LEGO fans alike. The set even includes a posable Canadarm2 and eight adjustable solar panels.
Learn more.
---
Most popular last issue


What are the best brake pads? Cheap vs. expensive tested
Are expensive brake pads better than cheaper brake pads? Are cheap brake pads dangerous? Jason Fenske from Engineering Explained compares brake pads ranging from $20 to $90, all for the front brake pads on the exact same vehicle. He runs through some pretty thorough performance, corrosion, shear, and noise tests to find out. You almost always learn something new from Jason.
View the video.


See SpaceX rocket explode -- on purpose
SpaceX conducted an exciting test Jan. 19 of the Crew Dragon spacecraft's emergency abort system. The spacecraft is intended to take astronauts to the International Space Station later this year. Launched atop a Falcon 9 rocket from Kennedy Space Center's Launch Pad 39-A, the unmanned Crew Dragon capsule rose through the atmosphere for 84 sec before the abort was triggered, the rocket engines were shut down, and the Falcon 9 booster was deliberately exploded. The Crew Dragon capsule has eight SuperDraco engines embedded in its hull that activate to push the vehicle away from the rocket if there is an in-flight emergency. It all worked as planned, and the capsule successfully descended to a parachute-assisted splashdown about 9 min. after liftoff some 32 km off the Florida coast. If you just want to zoom to the explosion, fast forward to the launch about 18 minutes in.
View the video.
---
Videos+: Technologies and inspiration in action
Sneak peek of Ford Bronco off-road testing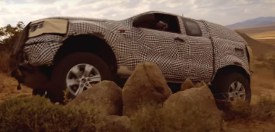 What will the upcoming Ford Bronco 4x4 really look like? We still don't know, but the company recently put out a teaser to whet our appetite for the all-new off-roader. Ford experts are busy testing and proving out the reintroduced Bronco's powertrain and rugged chassis, which is based on the company's fully boxed, body-on-frame global T6 architecture, in an experimental prototype vehicle. Some of the testing involves pushing the sixth generation of America's original "sports utility vehicle," to its limits in the grueling conditions provided by the Mojave Desert. The Bronco will debut this spring.
View the video.
Rolls-Royce: Data monitoring and analysis for electric flight propulsion systems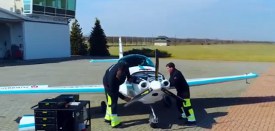 Learn how engineers at Rolls-Royce are working on smarter drive system development and operation for electric aircraft. They use hardware and software algorithms to collect data generated by bench-tested and in-flight propulsion systems and keep the data in Siemens' MindSphere open cloud platform. Their work leads to better aircraft designs and can even provide advanced warning when faults are detected.
View the video.
---