| | |
| --- | --- |
| February 18, 2020 | Volume 16 Issue 07 |
---



Mechanical & Rotary Feedthroughs
BellowsTech, LLC edge welded bellows can act as a flexible seal when designed as a mechanical feedthrough, allowing movement of a tool within a sealed environment under vacuum or positive pressure. Edge welded bellows provide the greatest flexibility and motion, reaching a 90% stroke length. Material choices include Stainless Steel, Inconel, Titanium and Hastelloy.
Learn more and shop standard bellows online!
---
---


Robot Tools for automated manufacturing and finishing
Suhner Robot Tools are available for integration as end effectors on all types of robots for various machining and finishing operations, including drilling, grinding, filing, cutting, brushing, sanding, polishing and deburring. They bring high-level automation to your manufacturing, from large auto production lines to weld shop equipment builders.
Learn more about Suhner Robot Tools.
See Suhner Robot Tools in action.
Or contact Lee Coleman, Suhner, 706-235-8046.


Mike Likes:
Plastic parts with no molds required
How often have you wondered what life would be like without having to worry about paying tooling charge after tooling charge for products in early development? The "No Molds Required" (NMR) manufacturing technology from Envision Plastics & Design could be your answer. This unique production process harmonizes a combination of sheet metal fabrication and woodworking practices to produce plastic parts used for enclosures, panels and shrouds, brackets and shields, medical-based products, and more.
Read the full article.


Extreme aerodynamics: 827-hp Pagani Imola hypercar
If you ever end up with money to burn, please don't strike that match. You could be lighting the track on fire instead in something like the Pagani Imola hypercar -- one of only five in the world and the pinnacle of Italian advanced composite materials workmanship and aerodynamic technology.
Read the full article.


Top Tech Tip: Seal it, protect it!
A Smalley Laminar Seal Retaining Ring is a metallic labyrinth seal consisting of multiple rings in a groove. To seal an assembly from contamination while withstanding high temperatures and corrosive environments, Laminar rings are produced from metal, not rubber, neoprene, or other non-metallic materials. The arrangement of the rings and the specific orientation of the rings are dictated by the application and the severity of the environment. Numerous configurations are available.
Learn more.


Design Tips: Fasteners for printed circuit boards
When specifying hardware for printed circuit board applications, many designers may still turn either to loose fasteners or broaching fasteners. While both provide the necessary functionality, each carries potential risks that may impact the production process, the integrity of boards, and even disassembly if required. Leon M. Attarian of PennEngineering runs through profiles of the latest surface-mount fastener families.
Read the full article.


Chairless exoskeleton solves long-standing problem
The Chairless Chair is a new innovation for relieving strain and fatigue from excessive standing during long work shifts. The entire construct is lightweight, easy to put on, and hardly noticeable when walking. Operating a switch on the strap turns the flexible construct into a stable seat. Two small FAULHABER DC motors activate a stop valve in the hydraulic elements of the shock absorbers, locking the support into the seated position.
Read the full article.


Copper is newest material available for 3D printing
With the Markforged Metal X 3D printer, you can now easily manufacture electrically and thermally conductive complex copper parts -- and replace a conventional manufacturing process that's often difficult and expensive. From heat sinks to bus bars to custom welding arms, Markforged customers are reinventing the way they manufacture copper components.
Read the full article.


Plastic alternative to metal: Delrin
One of the more popular plastic material choices Proto Labs offers for injection molding and machining is Delrin acetal homopolymer (Polyoxymethylene POM). Delrin works as an excellent replacement for metal because of its high tensile strength, low friction and high wear resistance, creep and warp resistance, and overall durability and toughness. Ideal for industrial applications, Delrin exhibits low moisture absorption and is chemically resistant to hydrocarbons, solvents, and neutral chemicals.
Read this informative Proto Labs blog.


Build-to-order knobs and hand hardware
Rogan Corp.'s innovative use of two-shot plastic injection and insert molding has been providing customers with high-quality plastic clamping knobs, levers, and control knobs for 80+ years. Rogan offers concurrent engineering, product design, and assistance in material selection to ensure customer satisfaction. Cost optimization and on-time delivery are hallmarks of Rogan service. Three levels of build-to-order parts offered: Standard, Modified, and Custom.
Learn more.


Automated measurement inspection cobot system
New Scale Robotics has introduced its Q-Span Automated Small-Part Measurement Systems for quality control (QC) teams in high-mix, small-batch manufacturing environments. Q-Span Systems combine robotic pick-and-place with automated measurement of small parts, automating the tedious manual process of measuring parts with digital calipers. A Q-Span Workstation Solution includes up to three gripper/caliper tools on one collaborative robot. The system picks up small parts, measures multiple dimensions, makes in-process decisions based on measurements (pass/fail or sort by range), and places each part in the appropriate tray or bin. All data can be recorded to a PC for later analysis and statistical process control (SPC).
Learn more.
---
Most popular last issue


Beats like the real thing: Hybrid bionic heart
Engineers at MIT and their partners have developed a bionic heart that offers a more realistic model for testing artificial valves and other cardiac devices. The device is a real biological heart that has had its tough muscle tissue replaced with a soft robotic matrix of artificial heart muscles that resemble bubble wrap.
Read the full article.
---
Videos+: Technologies and inspiration in action
Will it vibe? 3D-printing shock and vibration test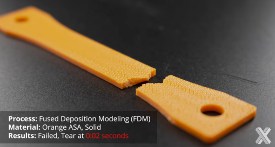 The engineers over at Xometry have set 3D-printed parts on fire, pushed and pulled them to their limits, and even tried to smash them up. Now they take a look at how much continuous vibration nine 3D-printed test samples can withstand. Watch their latest engineering challenge to see which 3D-printed processes and material combinations will pass the test.
View the video.
Building NASA's Mars 2020 Rover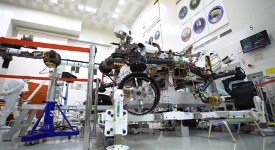 See NASA's next Mars rover come together inside a clean room at the Jet Propulsion Laboratory. This behind-the-scenes look at what goes into building and preparing a rover for Mars, including extensive tests in simulated space environments, was captured from March to July 2019. The rover is expected to launch to the Red Planet in summer 2020 and touch down in February 2021.
View the video.
---