| | |
| --- | --- |
| March 17, 2020 | Volume 16 Issue 11 |
---
---


Super Ion Air Knife
Static electricity causes lots of problems including dust attraction, jamming, tearing, and painful shocks. EXAIR's Super Ion Air Knife cleans and neutralizes static up to 20' away! The laminar sheet of air sweeps surfaces clean of static, particulates, dust and dirt.
Website offers detailed information, video.
---

Feature articles

Gremlin drones will be launched, retrieved mid-air

DARPA has completed the first flight test of its X-61A vehicle, part of its Gremlins program that aims to launch swarms of low-cost, reusable unmanned aerial systems from U.S. military planes and retrieve them mid-air. Gremlins could fill an advantageous design-and-use space between existing models of missiles and conventional aircraft.
Read the full article.

---


Universal Robots debuts new cobot-powered fulfillment solutions
Universal Robots, the originator of the super-popular collaborative robotics technology, showed attendees at the MODEX 2020 supply chain expo in early March how cobots can automate hard-to-staff palletizing and piece-picking tasks with new applications from partners MDCI Automation, RightHand Robotics, and Cross Automation. Learn all about the latest in cobot tech and capabilities.
Read the full article.


Boeing unveils Army FARA attack copter design
Boeing revealed its U.S. Army Future Attack Reconnaissance Aircraft (FARA) design on March 3, the fourth company to put its helicopter plans in the running for a new military contract. Boeing envisions a thrust compounded single main rotor helicopter that boasts a six-bladed rotor system, tandem seating, a modular state-of-the-art cockpit, and more.
Read the full article.


Swept elbow backshells: Cable termination
TE Connectivity has introduced its new swept elbow backshells for electrical and fiber cables in a wide range of military and aerospace applications. They can provide strain relief and cable support to help reduce bending or overflexing, while also offering up to 20 percent weight savings. The backshells are designed to allow for uncoupling during repairs, which helps reduce damage to the boot, resulting in a simple and fast termination option. They are available in a band strap (BT) termination style, with more options to follow.
Learn more.


Cart, adapter, top module for new MiR250 Mobile Robot
Denmark-based robotics company ROEQ has just launched three new products simultaneously with the reveal of Mobile Industrial Robots' new MiR250 mobile robot. The Shelf-Cart 300 is a vehicle for carrying up to 300 kg (661 lb) that the MiR250 can pick up and deliver anywhere in the workplace, even without a docking station. The new Adapter Module 250 enables the use of three of the existing ROEQ top modules on the new MiR250 robot. The Shelf Carrier 300 Extended is an extended top module specifically designed for the MiR250 robot, making it long enough to carry Euro pallets without compromising safety.
Learn more about these and other ROEQ products.


Shape-memory alloys and other next-gen materials
Goodfellow and German technology company Acquandas have formed a partnership to offer micro-patterned, 2D, and 2.5D integrated multifunction miniaturized components and coatings with superior performance properties. Materials available include nitinol (NiTi) and other superelastic or shape-memory alloys, bioresorbable alloys, magnetic materials, and electrical alloys and insulators. In healthcare, this tech can be used to manufacture next-gen self-expanding, biocompatible, and bioresorbable implant devices and intelligent med instruments. In defense, aerospace, automotive, and manufacturing automation, the technology finds application in shape-memory-alloy-based electrical actuators for robotic applications, and for the latest MEMS technology to manufacture miniaturized electronic relays, position-sensing linear actuators, micro relays, micro valves, and micro pumps.
Learn more.


High-power-density outer-rotor brushless motor
Allied Motion Technologies has released the new KinetiMax High Power Density (HPD) motor series. This outer-rotor brushless motor is designed for high-torque, low-cogging applications like robotics, AGVs, and handheld power tools. With an efficiency rating of over 85 percent and a high power-to-weight ratio, it's an ideal motor choice for any application where weight and battery life are critical. They are available in six frame sizes, with three stack lengths per size and three windings per stack length.
Learn more.
---
Videos+: Technologies and inspiration in action
3 essential injection molding design principles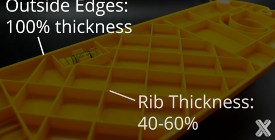 In this Quick Tips video, Xometry's Director of Application Engineering, Greg Paulsen, goes over the three essential design principles of injection molding. Plus, he has some quick tips and tricks to make sure your designs come out of the mold perfect -- from the first part to the 5,000th. Solid, useful info.
View the video.
Torque automation with a DC electric fastening system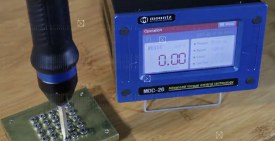 The new MD-Series DC torque control system by Mountz is a high-performance fastening system that allows manufacturers to optimize the assembly area, reduce labor costs, enhance quality, and increase productivity. It features a programmable digital torque setting with memory for 15 preset torque values. The electric screwdrivers feature the Swiss Maxon DC servo motor technology engineered for high-production environments. Built for critical tightening applications, Mountz offers various handheld and robotic models that range from 0.08 to 434 in.-lb.
Learn more.
---