| | |
| --- | --- |
| April 21, 2020 | Volume 16 Issue 15 |
---
---


High Thermal Conductivity Ceramic
Insaco machines CVD Silicon Carbide, a super-hard ceramic that features very high thermal conductivity. Specified by customers for semiconductor, aerospace and medical applications. Since 1947, Insaco has been custom fabricating precision parts from all technical ceramics including sapphire and quartz. Engineers are available to discuss material features / limitations and feasibility of design concepts.
Learn more at www.insaco.com.
---

Feature articles

Astronaut creates single-handed drone flight controller
Scott Parazynski spent 17 years as an astronaut and conducted seven spacewalks, including four in a single space shuttle mission. He took the experience he had with astronaut robotics controllers as well as aircraft joysticks into his next venture as an entrepreneur to create the one-handed FT Aviator -- with some of the tech even inspired by the Mercury Program.
Read the full article.

---


Most powerful 4-cylinder: 421-hp Mercedes-AMG GLA 45 4MATIC+
If you've been hesitant to buy a little 4-cylinder because you thought it won't have enough get up and go, the new 2021 Mercedes-AMG GLA 45 4MATIC+ could change your mind. Its 2.0-liter engine is the most powerful series-produced 4-cylinder turbo engine out there. This is not your average about-town five-seater. It's a sophisticated luxe-sport race car in compact SUV guise.
Read the full article.


Rings and springs for ventilators
As a leading supplier to the medical industry, Smalley's Wave Springs and Retaining Rings are the trusted choice for medical devices from ventilators/respirators to robotic surgical instruments and more. Choose from 12 product types, 400 sizes, and 10,000+ standard parts stocked in carbon and stainless steel.
Learn more.


Line Vac Air Operated Conveyors
EXAIR's Line Vac connects to standard hose or tube to create a powerful conveyor. The design features large throat diameters for maximum throughput capability. A small amount of compressed air is injected through directed nozzles to produce a vacuum on one end and high output flows on the other.
See video online.


50 Years Ago: Apollo 13 averts disaster
Fifty years ago, an explosion in the Apollo 13 service module destroyed much of the spacecraft's power and oxygen supply. Ultimately, NASA ingenuity and the astronauts' bravery returned the craft safely to Earth from lunar space. The mission did not complete the third Moon landing, but its events and heroic actions have inspired generations of space enthusiasts the world over.
Read the full article.


Depend on FAULHABER drives for critical medical applications
Surgical robotics systems offer an overwhelming advantage over traditional methods: improved precision and speed, faster patient healing, and a reduced margin of error. For minimally invasive procedures requiring this level of precision, performance and quality, the engineers of surgical robotics systems rely on FAULHABER brushless dc motors.
Learn more.


THK world-class KR actuators: Rigid, accurate, and compact
The LM guide actuator model KR from THK provides high-rigidity, high-precision functionality and space saving. It is achieved by a nut block designed in a structure that integrates an LM rail having a highly rigid U-shaped cross-sectional form with the LM guide section. The KR features a four-way equal load rating. The LM guide actuator can be operated in any position, which makes it ideal for loading in directions that are not fixed.
Click here to learn more.


Tech Tip: How colorants affect plastic characteristics
If you're starting a custom plastic injection molding project, you'll want to select a material with the properties most suitable for the function of your parts. One aspect of polymer characteristics that doesn't always get the consideration it deserves is the addition of colorant. Believe it or not, there is a whole scientific body of knowledge about the ways in which adding color to plastic can affect the behavioral properties of the plastic. This short article by Denny Scher of ICOMold takes a high-level look at some of the different, and surprising, ways colorants can have an effect on plastics.
Read the full article.


Brakes for automated guided vehicles
Today's latest automated guided vehicles (AGVs) require highly responsive braking and holding power while minimizing battery usage. The Miki Pulley BXR-LE brake is a power-off engaged brake that will hold the AGV in place when not in use. When the AGV must navigate the production floor, the brake is energized, which disengages the rotor disc and allows free rotation of the AGV drive wheels. The BXR-LE brake uses 24 VDC for a split second to overcome compression spring inertia to open the brake, then consumes only 7 VDC by utilizing the BEM power control module. This saves battery power and minimizes the number of battery recharging operations needed to keep the AGV in continuous operation.
Learn more.


View large file-size models with standard browser
The XVL Web3D Manager from Lattice Technology enables viewing of complete product data (3D and metadata) using any modern web browser. What separates XVL Web3D Manager from standard viewing solutions is that it can accommodate gigabyte-size 3D models with fast performance, access control, and other features. This means manufacturers can repurpose 3D CAD data to be used by stakeholders downstream from product development. Common use cases include design reviews, assembly validation, assembly work instructions, technical documentation, and procedural service instructions.
Learn more.


New ultra-bright miniature bayonet-based LED bulbs
LEDtronics' miniature solid-state bulbs are used for critical applications in industries such as defense and aerospace, transportation, and power plants. The BSD-1118/1318/1319 series directly replaces similar Ba9s bayonet-base incandescent lamps. These LEDs offer up to 90 percent energy savings, higher intensity, more even lighting, and reduced heat and relamping costs in critical status-indication applications such as indicator lights for instrumentation, panel-mount pilot lights, accent lighting, automotive indicators, and more.
Learn more.
---
Most popular last issue


Ferrari Roma: A taste of the sweet life
Ahh, the sweet life. Do you remember that, before things got so challenging? Ferrari still has that spirit and has channeled it into its new sleek and sultry Roma coupe. The 611-hp turbo V8 is simply stunning -- like someone in a 1960s spy movie got a glimpse of the future and related instantly.
Read the full article.
---
Videos+: Technologies and inspiration in action
Which metal is the best choice for my spring?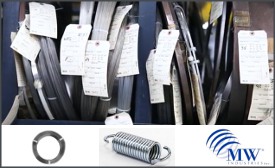 Do you know which metal is best for your extension spring application? Atlantic spring runs through available metal types, including steel, Inconel, Hastelloy, titanium, bronze, copper, and exotics. Their extension springs are used in applications where a very precise amount of force at a certain deflection is needed. Springs can be pulled from an inch to 100 inches. See the manufacturing process at Atlantic Spring/MW Industries and learn about material properties. Some very good info.
Watch video.
---