| | |
| --- | --- |
| May 05, 2020 | Volume 16 Issue 17 |
---



Reduce Spring Height by 50%
Smalley Wave Springs can replace conventional coil springs while occupying only half the space and providing the same force and deflection. Over 4,000 springs available from stock in carbon and stainless steel or utilize Smalley's No-Tooling-Cost™ manufacturing process on custom designs, available from .157" to 120". Free samples available for testing.
Learn more.
---
---


New FAULHABER 2020-2021 Product Catalog
Comprised of more than 650 pages, the new FAULHABER product catalog 2020-2021 features the most comprehensive portfolio of highly developed miniature and micro drive technology available from a single source, worldwide. The new product catalog paired with our online product selector make it quick and easy to determine which products and configurations will best suit the drive system requirements of your application.
Grab your digital copy now!


250-mph Speedtail is fastest McLaren road car ever
With a silhouette like something from a 1950s issue of Popular Mechanics, the new Speedtail is McLaren's fastest road car ever and its first Hyper-GT model. The 250-mph three-seater is way more than retro-futuristic chic, though. It provides a glimpse into the latest developments in lightweighting and hybrid-drive technology, featuring titanium woven into its carbon fiber, a Formula E-derived electric motor, and a special high-voltage battery design
Read the full article.


Engineer's Toolbox:
Self-clinching fasteners design tips
Dozens of types and thousands of variations of self-clinching fasteners (steel, stainless steel, or aluminum) have been engineered over the years. Leon M. Attarian of PennEngineering provides three mini case studies where manufacturers benefited greatly by switching to self-clinching fasteners in their assemblies. This article is filled with insightful tips and suggestions.
Read the full article.


20,000 stock metric gears
KHK USA Inc offers the largest selection of stock metric gears in North America. With over 200 types, in more than 20,000 configurations, KHK USA offers the broadest selection of metric spur gears, helical gears, internal ring gears, gear racks, bevel gears, worms and wormwheels, and other gear types.
See what KHK USA has in stock for you today.


Turn any pipe or hose into a conveyor
EXAIR's Line Vac connects to standard hose or tube to create a powerful conveyor. The design features large throat diameters for maximum throughput capability. A small amount of compressed air is injected through directed nozzles to produce a vacuum on one end and high output flows on the other.
See video online.


High-speed camera for manufacturing analysis
High-speed video capture can help engineers troubleshoot manufacturing processes and researchers analyze fast-acting events, but traditional large-format, high-speed cameras can quickly run out of storage. Mikrotron has solved this problem with its MotionBLITZ CVR recording system that combines an EoSens 4MP CoaXPress color camera remotely connected to an industrial-grade DVR. The MotionBLITZ CVR is capable of recording video sequences of up to 12 sec at 560 fps and 2,336 x 1,728-pixel resolution directly into RAM, then quickly downloaded to the 2-TB RAID drive. It also can be configured to record up to 35,000 fps in smaller image formats. The detachable camera easily fits into tight spaces.
Learn more.


High-torque synchronous drive/timing belts
AutomationDirect SureMotion 5M and 8M (5-mm and 8-mm pitch) high-torque synchronous drive/timing belts are an excellent choice for many industrial applications. They have a curvilinear HTD (High Torque Drive) tooth profile that allows the belts to have a much larger pulley contact area for improved performance. The chloroprene belt body is heat and ozone resistant and features a high tooth-shear resistance. Widths from 9 mm to 30 mm and circumferences from 180 mm to 4,400 mm are available. Pitch sizes and widths match SureMotion pulleys to cover a wide range of power transmission requirements.
Learn more.
---
Most popular last issue


Sneak Peek: Mustang Cobra Jet 1400 drag racer
Ford Performance, the automaker's motorsport and racing division, has taken the wraps off its one-off Mustang Cobra Jet factory drag racer with all-electric propulsion ahead of the vehicle's official world debut this summer. Details are slim, but the EV is the latest in a growing line of demo and real-world plug-in cars from the Pony car maker.
Read the full article.


Aerogel insulations save millions in industrial applications
Aerogels (which are gels with all the water removed) are the world's most insulating materials, but when they were first created they were brittle to the point of uselessness. In 1992, a silica aerogel reinforced with ceramic fibers created by Aspen Systems changed all that, providing the first flexible and practical blanket aerogel insulation. The technology, developed with the help of NASA, has saved companies millions in industrial applications.
Read the full article.
---
Videos+: Technologies and inspiration in action
Improved low-backlash Slip-Ease clutches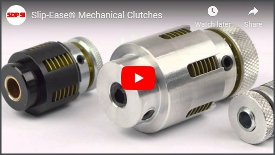 SDP/SI offers a new, low-backlash variant of its existing line of multi-plate in-line slip clutches. Both versions feature an all mechanical design, which makes them considerably cheaper than electromechanical alternatives. These clutches are commonly used for overload protection to prevent injury and machine failure, but have a wide variety of other applications such as tension control and positioning retention hinges like the ones in reclining chairs. The slip plates are layered with friction pads in between, and an adjusting nut sets the slip torque by squeezing the plates together. The outer plates are tabbed to fit into the output housing and the inner plates are connected to the input hub, so the two ends disengage from one another upon slipping.
View the video.
What's the future of 3D printing?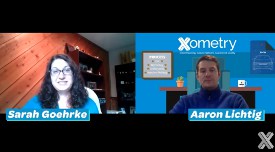 In the first episode of Xometry's new "OK Xoomer" Zoom interview series, on-demand manufacturing expert Aaron Lichtig ?talks to 3D-printing editor and enthusiast Sarah Goehrke about the future of additive manufacturing. One surprise? Goehrke says 3D printing won't truly have made it until it officially becomes a "boring" technology.
View the video.
---