| | |
| --- | --- |
| September 06, 2022 | Volume 18 Issue 33 |
---



Stuck on Coil Springs?
Smalley Wave Springs can replace conventional coil springs while occupying only 50% of the space and providing the same force and deflection. Over 4,000 springs are available from stock in carbon and stainless steel or utilize Smalley's No-Tooling-Cost™ manufacturing process on custom designs, available from .118" to 120".
Free samples are available for testing.
---
---


New dynamical framework for turbulence uncovered
Physicists from Georgia Tech have demonstrated -- numerically and experimentally -- that turbulence can be understood and quantified with the help of a relatively small set of special solutions to the governing equations of fluid dynamics that can be precomputed for a particular geometry.
Read the full article.


Photo-chemical etching: What design engineers need to know
Dr. Angel Lopez, director of Business Development at micrometal GmbH, one of Europe's leading photo-chemical etching providers, discusses what considerations design engineers need to bear in mind when working with this versatile and sophisticated metal machining technology that produces complex and feature-rich metal parts and components that are burr and stress free.
Read the full article.


New igus polymer spherical ball strengthens food safety
To make food-processing facilities and machinery even safer, igus, the Germany-based manufacturer of motion plastics, has launched a new standard in the form of the high-performance plastic iglide A181 as a spherical ball material for the igubal Food Contact (FC) joint system. Moving on stainless steel shafts, the spherical cap is three times more wear resistant than the previous version made from iglide FC180. It also costs 25% less and is self-lubricating, maintenance-free, and FDA and EU 10/2011 compliant.
See igus at IMTS 2022 booth #134812.
Learn more.


Great Resources: EXAIR Case Study Library
Learn how EXAIR compressed air-operated products improved production rates, lowered defects, increased safety, and provided quick ROI. Each of the more than 40 studies includes an application goal, the process problems before EXAIR, and the final improvements achieved. EXAIR's real-world gains include dollars saved, SCFM saved, decibels lowered, quality improvements, and more.
Check out the case study library.


Next-generation electronic digital comparators
The Millimess 2000 W(i) and 2001 W(i) Digital Comparators from Mahr set new standards in metrology with unique and innovative features such as touch display, inductive measurement system, and integrated wireless connectivity. The systems combine practical and reliable operation with maximum precision using a unique inductive measuring system.
See Mahr at IMTS 2022 booth #135810.
Learn more.


Miniature voice coil servo motor with 1-micron resolution
The miniature GVCM-016-019-01M Linear Voice Coil Servo Motor from Moticont is smaller in diameter than a dime and features a high force-to-size ratio of 1.5 N (5.3 oz) continuous force and 4.6 N (16.6 oz) of peak force. These brushless mini linear servo motors are clean, quiet, and feature high acceleration/deceleration, high speed, high reliability, and cog-free linear motion. An ideal choice for haptic feedback, pipetting in medical devices, machining and drilling, scanners, laser beam steering, sorting, assembly, and more. Can also be a low-cost replacement for pneumatic linear actuators.
Learn more.


Small valves prevent big blowups
Smart Products USA says their best example of a true relief valve can be found in Models #103 and #109. Available as a 1/8" Male NPT style, these valves are easily placed into plastic, metal, or other materials with absolutely no tubing involved. While the majority of the company's valves function as both a check and pressure-relief flow control option, Models #103 and #109 are more suited to only relieve pressure. When pressure builds to a designated PSI level, this spring-loaded valve responds and allows flow of liquids/gasses slowly to prevent blowups or damage.
Learn more.
---
Most popular last issue


Hennessey Venom F5 Roadster: 300+-mph convertible
If extreme speed and the feeling of wind in your hair gets your motor running, Texas-based Hennessey Special Vehicles has a hyper-cool car that is right up your alley. Boasting a twin-turbocharged, 6.6-L Fury V8 engine, the new 1,792-hp Venom F5 Roadster is a limited edition, 300+-mph showpiece that's pretty easy on the eyes too.
Read the full article.


Aero History: WWII Superfortress bomber engine struggles
In July 1944, a B-29 Superfortress aircraft conducted a series of flight tests at the NACA Aircraft Engine Research Laboratory (now NASA Glenn) in Cleveland, OH. The tests were part of a national effort to get the new bomber into combat as the Allies sought to turn the tide in the Pacific theater of World War II.
Read the full article.
---
Videos+: Technologies and inspiration in action
Meet the new FANUC ROBODRILL at IMTS 2022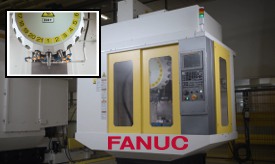 The new FANUC ROBODRILL Plus vertical machining center offers a wide range of advantages in terms of speed, performance, ease of use, and automation. With small, medium, and large models to choose from, ROBODRILL Plus offers maximum machining performance for nearly any size part and production requirement. These machines are enhanced for 5-axis operations and faster cycle times, featuring unbeatable tool change time up to 0.7 sec and a turret capable of handling tools weighing 4 kg.
See FANUC at IMTS 2022 booth #338919.
Watch how it works.
---