| | |
| --- | --- |
| March 13, 2018 | Volume 14 Issue 10 |
---
---


Coupling Connection for Motion Control
These versatile, flexible nickel and stainless steel shaft couplings from Servometer are capable of accommodating misalignments for parallel, angular and axial motion or any combination of all three types and are often used to support applications in resolvers, encoders, stepper and servo motors, small pumps, fans and blowers. For reliable 24/7 operations choose between standard parts for replacement, clamp style or set screw hubs. Go online today to choose a standard part. Hundreds of sizes to choose from. Standard parts can also be customized to fit your application.
Solve your coupling connection challenge today.


Better than a hologram? New system produces 3D images that float in 'thin air'
In the original "Star Wars" film, R2D2 projects an image of Princess Leia in distress. BYU electrical and computer engineering professor and holography expert Daniel Smalley has long had a goal to create the same type of 3D image projection. In a paper published at the end of January in Nature, Smalley details the method he has developed to do so. "This display is like a 3D printer for light," he said.
Read the full article.


0.38 sec: Fastest Rubik's Cube-solving robot uses 6 Kollmorgen ServoDisc motors
A pair of enterprising engineering students has posted a video online that shows a machine they built solving a Rubik's Cube puzzle in 0.38 sec -- the fastest in the world by far if they can get it made official (current world record is 0.637 sec). The machine was created by MIT Biometrics Lab Master's student Ben Katz and software developer Jared Di Carlo, and each has posted an in-depth blog about their creation and methods. "We noticed that all of the fast Rubik's Cube solvers were using stepper motors and thought that we could do better if we used better motors. So we did," said Di Carlo, adding that each motor "can accelerate insanely fast. In a 10-ms quarter-turn move, the motor reaches over 1,000 rpm." Katz said the device uses six Kollmorgen ServoDisc U9-series motors. "Two were taken from my old robot arm project, the rest were found pretty cheaply on eBay," he said. Two PlayStation cameras are also part of the mix.
Read Katz's blog, which contains videos and a link to his partner's page.


Engineer's Toolbox:
Self-clinching fasteners by design
Dozens of types and thousands of variations of self-clinching fasteners (steel, stainless steel, or aluminum) have been engineered over the years. Leon M. Attarian of PennEngineering provides three mini case studies where manufacturers benefited greatly by switching to self-clinching fasteners in their assemblies. This article is filled with insightful tips and suggestions.
Read the full article.


New zero-backlash, spring-engaged brake family
The pneumatically released ZSE family of spring-engaged brakes from Nexen Group offers high torque, high speed, and zero backlash ideal for holding applications. Unlike brakes using leaf springs to transmit torque, the ZSE is zero-backlash -- up to 100% of its rated holding torque. Highlights include speeds up to 5,000 RPM and holding torque up to 300 Nm. Nexen has released four different sizes (450, 600, 800, 1,000) for a wide variety of applications. The bore sizes are available in three standard sizes and can be easily customized. The ZSES brakes are available with internal sensors to provide feedback and data to maximize machine safety and efficiency, making them ideal for Industry 4.0 compatibility.
Click here to learn more.


Alternatives to screws for compact electronics
Aluminum and stainless steel microPEM TackSert pins from PennEngineering provide cost-effective alternatives to micro screws for attaching top panels to base panels or chassis in compact electronic assemblies. They will attach top panels of any material to a base or chassis manufactured from common cast metals (such as magnesium and aluminum) or plastics (such as ABS and printed circuit boards). The pins ultimately eliminate many of the costs and issues associated with screws and integrate unique design features, promoting reliable and effective performance.
Click here to learn more.


Give your design a boost: Boost mechanisms
A mechanism designed to generate a large force from a small force is called a boost mechanism. Carlicia Layosa, Marketing Product Engineer at MISUMI USA, gives an overview on the mechanical components that can make up a boost mechanism -- including links, levers, screws, wedges, gears, and pulleys -- and their basic design principles, comparative force vectors, and application examples.
Click here to read the blog post.


Cost-optimized BLDC motors for series production
With the DBL36, Nanotec now offers a brushless DC motor that is designed for large quantities. This motor is available in three lengths with a rated power of 7.5 W (size S), 18 W (size M), and 33 W (size L). These electronically commuted 3-phase motors are equipped with three Hall sensors that provide information on the rotor position. They are characterized by very high efficiency and, thanks to their precision ball bearings, smooth running characteristics. The rated speed is 4,800 rpm for sizes S and M and 4,500 rpm for size L; its rated voltage is 24 V. With a rated torque of 1.5 to 7 Ncm and a diameter of 36 mm, the DBL36 is an extremely economical solution for a wide range of applications. The winding can be adapted to other rated speeds and voltages in series production.
Click here to learn more.


Tips for selecting linear actuators
Aaron Dietrich from Tolomatic runs through the main specifying considerations for electric actuators, citing their high performance, adaptability, low total cost of ownership, and easy integration. But what about accuracy and repeatability? Should you go with a rod-style actuator or a screw type? What kind of force should you expect if you are considering converting from hydraulic to electric actuation? Tolomatic also offers an extensive ebook to help with your decision-making if you need it.
Click here to learn more.


High-performance mini ball screws
New SKF SP Series high-performance miniature ball screws have been optimized to deliver precise positioning, excellent repeatability, and smooth-running and quiet linear actuation. Their advanced internal ball recirculation system and thread design enable higher speed capabilities (up to 15,000 RPM) and longer operating life compared with conventional rolled ball screws. These robust solutions in small packages can help extend mini machine reliability, increase speed and output, and reduce noise for a wide range of medical, laboratory, automation, and other small-equipment applications. Diameter ranges from 8 mm to 16 mm.
Click here to learn more.


Cool Tools:
World's fastest digital ultra-high-speed camera
Vision Research has introduced the Phantom v2640, the fastest 4-Megapixel (MPx) camera available. It features a new proprietary 4-Mpx CMOS image sensor (2048 x 1952) that delivers unprecedented image quality at up to 26 Gpx/sec, while reaching 6,600 frames per second (fps) at full 2048 x 1952 resolution, and 11,750 fps at 1920 x 1080. This is an excellent tool for researchers, scientists, and engineers who need to capture clean, high-resolution images at super high speeds. Go to the Videos tab on the product webpage to see it in action.
Click here to learn more.
---
Most popular last issue


Army hydrogen fuel-cell Chevy pickup takes on training in Hawaii
Soldiers from the 25th Infantry Division put the Army's ZH2 fuel-cell electric vehicle through the rigors of operating in jungle terrain during a training exercise at Schofield Barracks in Hawaii in late January. The aim was to evaluate the Chevrolet Colorado ZH2's operational effectiveness during multiple reconnaissance missions, putting General Motors' fuel-cell and off-road vehicle technology investments and commercial off-the-shelf products to the test.
Read the full article.


Engineering mystery: What's that white crack in my bearing?
Metal bearing failure due to rolling contact fatigue is generally a rare occurrence, but it does happen. A characteristic feature of many premature failures is the extensive subsurface crack networks that have a "white etching appearance," referred to commonly as white etching cracks. Bearing specialists at SKF take a deep look into this phenomenon in an attempt to determine if the white cracking causes failures or is a symptom of a bigger problem.
Read the full article.
---
Videos+: Technologies and inspiration in action
Introducing the smallest wave springs on the market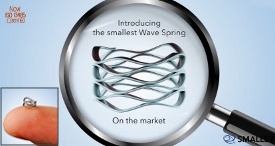 Smalley is involved in the development of medical technology and applications unique to the medical industry, and we are now ISO 13845 certified. We deliver high-quality alloys that are used for implants and medical instruments. Alloys including 316 Stainless Steel, Elgiloy, Inconel, and Titanium are readily available for fast production. With customs that can be designed with No-Tooling-Charges™ in sizes from .157" and 4 mm.
View the video.
Geneva Motor Show 2018: 14 cars you need to see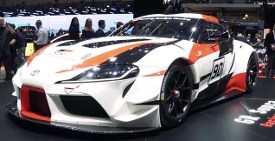 The editors at Autocar run through the concepts and real-world vehicles that caught their fancy at the 2018 Geneva Motor Show -- from hybrids to electrics to good-old gas guzzlers and racecars. Their top picks include the return of the Toyota Supra as a racing concept (wow!), the Ferrari 488 Pista, the super-sleek electric Lagonda saloon concept (look, Mom, just a pretty empty interior here with shag carpeting!), the Porsche 911 GT3 RS, Mercedes, Jaguar, Lamborghini, and more.
View the video.
---