| | |
| --- | --- |
| March 27, 2018 | Volume 14 Issue 12 |
---



NEED A HELPING HAND TO GET THE JOB DONE?
Is there a manual process in your production set-up that you believe could benefit from being automated? Then tell us about it for a chance to win one of three UR robots. It could be a monotonous task that your employees would only be too happy to swap for one that requires problem solving skills or a task that needs to be carried out faster for you to stay competitive.
Enter the contest here:
---
---


Get up to date on 3D printing tech in under 30 minutes
Donovan Weber, COO at FORECAST 3D, discusses a variety of 3D printing technologies so viewers can learn how speed and cost differ per process. An overview of material properties and how each can be measured in comparison to injection molded parts is also discussed. This useful webinar is the first in a new series sponsored by Xcentric Mold & Engineering. It covers benefits of, and materials for, SLA, FDM, SLS, and PolyJet.
View the on-demand presentation here.
You can always bookmark it and watch it later.


How to prevent step losses with stepper motors
When a stepping motor does not operate correctly in a specific situation, the common conclusion is that either the motor or the drive electronics are faulty. The motor selection and the choice of the driver are critical. However, other factors contribute to step losses. Mini-motors expert MICROMO runs through important things to examine for the analysis of step losses or non-operation across a variety of applications.
Read the full article.


What is electroforming? How does it actually work?
Electroplating may have been around for centuries, but only Servometer excels at manufacturing dynamic, convoluted bellows electroforms. Watch Servometer's five-step electroforming manufacturing process and learn how they are able to deliver electroformed components that feature extreme tolerances, complex geometries, lightweight construction, structural strength, and how they can be applied to a variety of applications.
Watch the video.


Pick-and-place universal joints upgraded
Belden Universal has recently implemented critical design upgrades to its universal joints for pick-and-place (Delta) robots. The redesign project was necessitated by industry demand (from both OEMs and end users) for space-saving components supporting heavier payloads. The stainless-steel component is based on Belden's unique hybrid design, combining the higher torque capacity of a pin + block joint with the needle bearing's ability to continuously operate at high speeds with low friction. It mitigates corrosion issues, contamination, burnout, and joint seizure.
Learn more.


Sanitary flange air conveyors ease installation and cleaning for chemical, pharmaceutical, and food systems
EXAIR's new Sanitary Flange Line Vac air operated conveyors are the best way to convey materials through systems that require frequent or mandatory cleaning. The ISO 2852-compatible sanitary flanges limit areas where bacteria can grow and help prevent contamination. Made from type 316 stainless steel to provide maximum hygiene and corrosion resistance, these Line Vacs are available in 1 1/2-in., 2-in., 2 1/2-in., and 3-in. flange sizes. Flanged Line Vacs convert flanged piping systems into a powerful conveyor for product, parts, scrap, trim, and other bulk materials. Their larger size makes them perfect for conveying bigger parts and large volumes of material over long distances.
Learn more.


XY stage gives high resolution and repeatability
The XYR-03-01 Motorized Alignment Stage from Optimal Engineering Systems (OES) is a high-resolution, high-repeatability XY-Theta (3-axis) stage for applications such as angular glass cutting and grinding, wafer alignment, semiconductor handling, and laser cutting and drilling. The linear resolution of the X and Y axis is 5µ (non-micro-step) or 0.125µ (20 micro-steps per step motor driver in use), the repeatability is 1.5µ, and positional accuracy is 5µ. The 1-mm per-turn lead screws and preloaded V-groove and crossed roller bearings add to the high precision and stiffness of the XYR-03-01 alignment stage.
Click here to learn more.


Top 5 challenges of motion control design
As motion control solutions -- from angle encoders to direct drive motors -- become even more ubiquitous in industrial situations, engineers face evolving demands and opportunities. From lowering the cost of advanced technologies to improving functional safety in automated environments, here are the top five challenges and opportunities in today's motion control design industry as seen by engineers from HEIDENHAIN.
Read the full article.


Selecting pneumatic or electric actuators
For some automation applications, it can be difficult to decide if a pneumatic or electric motor-driven actuator is best. Obviously, cost can be a big factor when choosing between the two, with pneumatic actuators typically costing less. So why should you pay more for an electric rodless actuator? Rollon says the answer boils down to higher levels of stiffness, as well as dynamic speed and motor control.
Read the full article.


Zero downtime available for FANUC robots
The Robot LINKi Zero Down Time (ZDT) service is now available to all automotive and non-automotive manufacturers who purchase FANUC robots. Launched in 2015 in collaboration with Cisco, ZDT is a predictive analytic service that automatically monitors robot health status and upcoming maintenance requirements. It eliminates the need for manual analysis and tracking, avoiding unexpected breakdowns during production. Today, over 16,000 robots in the automotive industry are operating with ZDT, which is available for all FANUC R-30iB Plus robots as well as R-30iA and R-30iB robots with the latest software version.
Click here to learn more.


Cool Tools:
Rugged smartphone with built-in thermal imaging
The ruggedized Cat S61 is equipped with FLIR Lepton, the industry's smallest, lightest, and lowest cost thermal imaging camera core. This smartphone enables users to see in total darkness and visualize heat that is invisible to the naked eye. The new model includes a variety of technical improvements, including an increased temperature range of -20 to 400 C (great for things like vehicle diagnostics and asphalt monitoring), upgraded visible HD camera and thermal image processing, and live thermal imagery streaming for sharing results in real time. Available 3Q 2018. Under $1,000.
Click here to learn more.
---
Most popular last issue


World's largest jet engine takes maiden flight
The world's largest jet engine took its first flight over the Mojave Desert on March 13. The GE9X is a showstopper. At 134 in., its fan diameter is so tall and wide that Shaquille O'Neil would fit inside the engine's cover with Kobe Bryant sitting on his shoulders. The whole engine is as wide as the body of an entire Boeing 737. By Tomas Kellner, GE Reports.
Read the full article.


It's HAMMER time: Scientists design conceptual asteroid deflector
Lawrence Livermore National Lab scientists are part of a national planetary defense team that has designed a conceptual 9-m-tall, 8.8-ton spacecraft dubbed HAMMER to deflect Earth-bound asteroids. They have evaluated whether it would be able to nudge a massive asteroid -- which has a remote chance of hitting Earth in 2135 -- off course. The spacecraft could serve as either a kinetic impactor, essentially a battering ram, or as a transport vehicle for a nuclear device.
Read the full article.
---
Videos+: Technologies and inspiration in action
Understanding pressure losses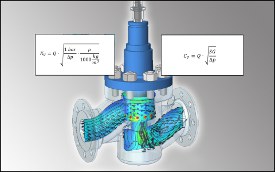 Early pressure drop investigations and optimizations are crucial for today's efficient designs. This short 3-minute video from Mentor shows you how to conduct pressure drop characterizations such as determination of kv or cv coefficients in FloEFD, the leading frontloading CFD simulation solution for design engineers.
View the video.
Engineering for Mars: Building the Mars 2020 skycrane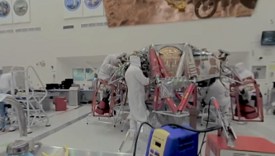 Peer over the shoulders of engineers as they build hardware for NASA's Mars 2020 mission. This 360-degree video transports you to the historic Spacecraft Assembly Facility at the agency's Jet Propulsion Laboratory in Pasadena, CA. Engineer Emily Howard narrates as you walk around the cruise stage, which will fly the 2020 rover to the Red Planet, and the descent stage's skycrane, which will lower the rover to the Martian surface.
View the video.
---