| | |
| --- | --- |
| August 07, 2018 | Volume 14 Issue 29 |
---



Powerful Brushless DC Motors with Integrated Control
FAULHABER brushless DC motors feature high torque, high speed with a small size and weight, ideal for heavy-duty servo applications with frequent overload conditions as well as for continuous-duty applications where maximum operational lifetime is required. FAULHABER brushless DC motors are also available with integrated speed or motion control, providing a compact, easy-to-use motion solution for precise and efficient control.
Learn more.
---
---
---
Feature articles


FCA creates new aluminum alloy for engines
A cooperative research effort between Fiat Chrysler Automobiles (FCA), Oak Ridge National Lab, and casting supplier Nemak has created a new aluminum alloy that stays strong up to 300 C (572 F). The new alloy can also be cast and machined using existing technologies. In one application, it may overcome the strength and thermal limits of the aluminum alloys used today for cylinder heads.
Read the full article.


Million-dollar Nissan GT-R50 prototype comes to life
In the space of only one year, Nissan and vehicle design house Italdesign have dreamed up a prototype and made the 50th anniversary GT-R50 concept come to life -- and they've done it with a Midas touch. The gold-accented, 710-hp heavily modified Nissan GT-R NISMO made its debut at the U.K.'s Goodwood Festival of Speed in July, with rumors swirling that it could be destined for a real-world limited production run.
Read the full article.


Cool Tools:
Rugged smartphone with built-in thermal imaging
Just available to order this month! The ruggedized Cat S61 is equipped with FLIR Lepton, the industry's smallest, lightest, and lowest cost thermal imaging camera core. This Caterpillar-branded smartphone enables users to see in total darkness and visualize heat that is invisible to the naked eye. The new model includes a variety of technical improvements, including an increased temperature range of -20 to 400 C (great for things like vehicle diagnostics and asphalt monitoring), upgraded visible HD camera and thermal image processing, and live thermal imagery streaming for sharing results in real time. Under $1,000.
Click here to learn more.


Handy 10 transmitter with proportional control
Scanreco Handy is a robust handheld transmitter with innovative proportional pushbuttons that are easily operated even when wearing work gloves. The speed of the controlled motion corresponds directly with the displacement of the button, enabling a higher degree of precision and performance compared to traditional one- or two-step buttons. Four proportional functions in dual directions can be controlled simultaneously. A second operational mode allows for further proportional and digital functions. Areas for function labeling with text, numbers, or symbols are located on top as well as next to each button.
Learn more.


Solenoid valves for commercial space vehicles
Marotta Controls has launched CoRe Flow Controls, a new series of commercially available, high-performance solenoid valves for today's NewSpace generation of reusable launch vehicles. It enables system designers to quickly move through the development phase with minimal risk, and its versatility allows for integration into a wide variety of critical applications, including pressurization systems, stage separation, and engine controls. The line consists of six flight-qualified solenoid valves designed around common components with operating pressures up to 6,000 psi (41 MPa). This standardized, high-volume production approach enables Marotta to offer lower cost components with shorter lead times.
Click here to learn more.


New advanced titanium alloy for high-temperature aerospace
Arconic has announced the commercial availability of an advanced titanium alloy called ARCONIC-THOR that is designed for higher temperature applications in next-gen aero engines and adjacent structures. This patented material is nearly 50 percent lighter than incumbent nickel-based superalloys. The proprietary formulation also demonstrates three times improved oxidation resistance compared to existing high-temp titanium alloys. Arconic has completed successful development projects of ARCONIC-THOR with the U.S. Air Force Research Laboratory, Boeing, and Honeywell. A new project is in the works with Lockheed Martin.
Learn more about the ARCONIC-THOR alloy.
Read about Arconic's agreement with Lockheed Martin.


Powder metallurgy sintering seminar in September
Registration has opened for one of the powder metallurgy (PM) industry's most popular programs, the PM Sintering Seminar. The event will be held September 25-26, 2018, at the Penn Stater Conference Center Hotel, State College, PA. Held only every two years by the Metal Powder Industries Federation (MPIF), this two-day seminar is meant for industry professionals either new to sintering or with intermediate experience in the industry. Topics covered will include information from basic theory and practices to troubleshooting and how to drive down the costs of sintering.
Click here to learn more.


Verify color accuracy in real time
The LEX-1000 sensor from EMX Industries is used to measure the relative color characteristics for a wide variety of light sources and illuminated objects. It focuses the light onto a sensitive RGB photodiode, where it is measured for its red, green, and blue (RGB) composition. When all three colors fall within the programmed tolerance, the output indicates a match. This is a great solution for evaluation of all visible light sources, LCD and LED display quality, and automotive lighting verification.
Learn more.


Compact brushless DC servo motor with integrated controller
Nanotec has developed the compact PD2-C-IP, a brushless DC servo motor with integrated controller and 42-mm flange size for use in harsh environmental conditions (class IP65). The PD2-C-IP is available as a brushless DC motor, with an operating voltage of 12 V to 48 V and a rated power of 105 W, and as a stepper motor with a nominal torque up to 0.5 Nm. Due to the field-oriented control based on an integrated encoder, both motors are controlled in the same way and differ only in their working point. Each motor is available in a USB or CANopen version. They offer effective and economical drive solutions when high precision and maximum benefit are required.
Click here to learn more.


New 3M tape tackles high-temp fastening applications
Since 1980, 3M VHB Tapes have opened the door to faster and easier assemblies. Now, the new GPH series from 3M combines the extreme, permanent bonding power and convenience of 3M VHB Tapes with high-temperature resistance. It can withstand operating temperatures up to 450 F, with long-term durability in conditions up to 300 F. Users will experience excellent adhesion to high and medium surface energy materials, as well as coated or painted surfaces. 3M VHB Tapes, including the new GPH series, replace traditional mechanical fasteners, subsequently eliminating processes like drilling, grinding, refinishing, screwing, welding, and associated rework/clean-up.
Click here to learn more.
---
Most popular last issue


New record set for largest 3D-printed space part
Lockheed Martin has created a 3D-printed titanium dome for a satellite fuel tank so big that you can't even put your arms around it. The 46-in.- diameter vessel completed final rounds of quality testing this month, ending a multi-year development program to create giant, high-pressure tanks that carry fuel onboard satellites. The fuel tank dome was printed on an American-made Sciaky EBAM 110 machine.
Read the full article.
---
Videos+: Technologies and inspiration in action
New tiltrotors prove a popular choice for military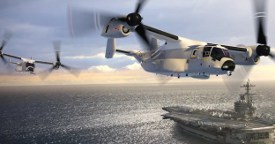 The Bell Boeing Joint Project Office has been awarded a contract to provide 58 tiltrotors to the United States Navy, Marines, and Air Force -- and to the government of Japan. The contract calls for several V-22 variants, including the new CMV-22B. The U.S. Navy will use its new CMV-22B for transporting personnel and cargo from shore to aircraft carriers, eventually replacing the C-2 Greyhound, which has been in service since the mid-1960s.
View the video and learn more.
---