| | |
| --- | --- |
| December 24, 2019 | Volume 15 Issue 49 |
---



Best-kept secret in the circuit breaker industry
When STELPRO, a Quebec-based manufacturer of integrated heating solutions for the HVAC industry, asked partners all along its supply chain to identify cost-saving opportunities, installing NOARK miniature circuit breakers in panels on all their equipment was one solution that provided long-term quality and savings (typically 30 to 50 percent in price). NOARK's five-year warranty was a huge added bonus.
Read the full article.
---
---


Periodic Table: It's more than just chemistry and physics
2019, the International Year of the Periodic Table, is almost over, but there is still time to celebrate the 150th anniversary of this unique tool. The table has enabled scientists the world over to predict the appearance and properties of matter on Earth and in the rest of the universe -- and do a whole lot more.
By Ben P. Stein, NIST
Read the full article.


Premium Toyota RAV4 will come in powerful plug-in hybrid flavor
Toyota showed off its new RAV4 Prime performance model at the Los Angeles Auto Show, and the debut is a record-setter for the line -- it's the most powerful, quickest, and most fuel-efficient RAV4 ever. It's also the first-ever RAV4 plug-in hybrid electric vehicle, so this compact, eye-catching, and capable crossover SUV has loads of new stuff to offer.
Read the full article.


What are form-in-place gaskets, what are their benefits and limits?
A form-in-place EMI gasket, also known as an FIP EMI gasket, is a robotically dispensed electromagnetic interference (EMI) shielding solution that is ideal for modern densely populated electronics packaging. It is meant to reduce "noise" between cavities on a printed circuit board (PCB) or in an electronics enclosure. Learn the tech's top benefits and limitations in this informative Parker blog.
Read the full article.


Edge protection seal for corner profiles
JW Winco offers a comprehensive portfolio of edge protection profiles for softening and rounding edges as well as preventing injuries on flaps, doors, access holes, and sheet metal edges of all kinds. These edge protection seals include an additional sealing profile feature that provides both protection and sealing alike. With corresponding contact pressure, they offer protection against splash water, dust, and steam, while also reducing noise emissions.
Learn more.


Flat external high-speed rotor motor
With the DF20, Nanotec now offers a flat external rotor motor with a diameter of just 20 mm. It is available with two different windings for 12 and 24 V and is equipped with digital Hall sensors for simple control. The DF20 features a rated power of 5 W and a rated speed of 5,200 rpm. The open design without rotor housing ensures optimal heat dissipation -- even at high speeds. Thanks to its compact construction with flat ribbon cable, this brushless DC motor is ideal for applications with limited space, such as robot grippers, medical pumps, or prosthetics. An adapter board is available for test purposes as an accessory.
Learn more.


Next-generation compact in-vehicle prototyping system
Increasingly demanding prototyping applications for the development of autonomous or electrically powered vehicles, as well as growing demands for connectivity and safety in function development, call for powerful in-vehicle prototyping systems. With the new MicroAutoBox III, dSPACE provides its completely updated real-time system geared to current and future requirements. Equipped with a quad-core ARM processor that has up to 16 times more processing power in each core than its predecessor, the MicroAutoBox II, this solution can also execute large models thanks to significantly more flash and DDR4 memory.
Learn more.


How to select the best test and measurement precision microphone
PCB Piezotronics has developed a new microphone handbook for use by intermediate-level acoustic engineers. The PCB team of acoustic experts and mechanical, industrial, and electrical engineers shares more than 35 years of their collective microphone design and manufacturing experience in the new guide. Sample topics include: sensor selection, detailed comparison of in-the-field vs. factory calibrations, and proper handling and maintenance tips. No registration required.
Learn more.


End-use plastic parts without tooling
Figure 4 Production Black 10 (PRO-BLK 10), a revolutionary new production material for additive manufacturing applications from 3D Systems, enables manufacturers to directly produce end-use plastic parts without tooling. This results in parts produced the same day versus the weeks required with conventional tool-based approaches. Figure 4 PRO-BLK 10 is 3D Systems' first photopolymer for additive manufacturing that exhibits thermoplastic behaviors, providing a combination of speed, accuracy, strength, and durability previously only associated with injection molding output. In customer testing of a variety of parts, using the Figure 4 system and the new material delivered a part in hand on average up to 4X faster compared to customers' existing 3D production systems.
Learn more.


Electromechanical kit for easy joining applications
Bosch Rexroth's new, innovative Smart Press Kit is designed to meet future industrial requirements and provides a complete mechatronics package immediately ready for use across an extremely wide range of standardized pressing and joining applications -- particularly 2 to 30 kN. The modular kit, consisting of mechanical components, electrical components, and software, simplifies product selection and configuration as well as commissioning. The Smart Press Kit can be connected via open interfaces and conveniently monitored on a tablet during operations. This maximizes transparency, reduces downtime, and increases productivity. Applications include press-fitting bearings into housings, crimping cables and hoses, and inserting (for example, integration of magnets in lamination stacks).
Learn more.


Motors for model train meet demanding requirements
Building an N-gauge (1:160) model train system involves working with very small units. The 1930s-inspired BR 70 locomotive from Fleischmann is only 2.25 in. long when measured buffer to buffer. As on large locomotives, traction (and on the model, power transmission) between the wheel and the track is a crucial factor. To give the unit appropriately scaled big-train power with low vibration and noise, the folks at Fleischmann turned to customized DC motors from the FAULHABER Group.
Read the full article.
---
Most popular last issue


New bullet design works under water
Like something right out of a James Bond movie, a Norwegian company called DSG Technology has invented a special bullet that can work under water. The technology uses supercavitation, where the design of the projectile creates a bubble around the bullet as it travels through water, reducing drag and enabling high speeds.
Read the full article.


NASA engineers burst world's largest rocket fuel tank
Engineers at NASA's Marshall Space Flight Center in Huntsville, AL, deliberately pushed the world's largest rocket fuel tank beyond its design limits to really understand its breaking point. The test version of the Space Launch System rocket's liquid hydrogen tank withstood more than 260 percent of expected flight loads over five hours before it exploded.
Read the full article.
---
Videos+: Technologies and inspiration in action
First drive test of NASA's Mars 2020 Rover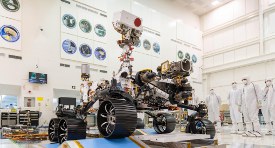 Look inside a clean room at NASA's Jet Propulsion Lab in Pasadena, CA, where a bunch of engineers crawled all over to observe the first driving test for NASA's Mars 2020 rover on Dec. 17, 2019. Scheduled to launch as early as July 2020, the Mars 2020 mission will search for signs of past microbial life, characterize Mars' climate and geology, collect samples for future return to Earth, and pave the way for human exploration of the Red Planet. It is scheduled to land in an area of Mars known as Jezero Crater on Feb. 18, 2021.
View the video.
FANUC cobots help make bumpers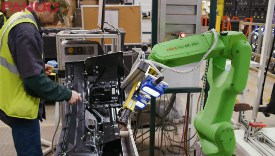 As FANUC collaborative robots become more widely used in applications across the globe, companies from all industries are continually discovering the many benefits that FANUC cobots provide. Ventra Ionia, a subsidiary of bumper-maker Flex-N-Gate Corp., is one such company. Watch and see how Flex-N-Gate is taking advantage of the many benefits cageless FANUC cobots provide to help improve their manufacturing processes, including as vital machine-vision tools that work alongside human partners.
View the video.
---