Airbus to test liquid hydrogen-powered engine on A380 demonstrator -- world's largest passenger airliner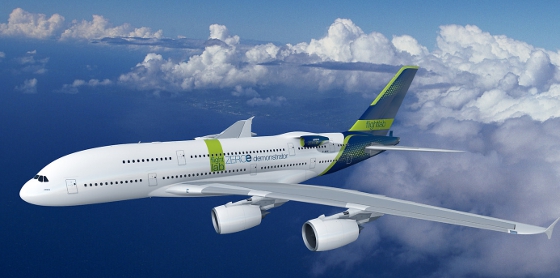 Airbus ZEROe A380 MSN1 demonstrator [© AIRBUS S.A.S 2022]
Airbus announced it was working on a design feasibility study to power commercial aircraft with hydrogen fuel cells in March 2021 as part of its ZEROe program, and now the company is going one step further -- developing a real-world testbed to ground and flight test a direct combustion engine fueled by hydrogen on an A380 aircraft. The double-decker A380 is the world's largest passenger airliner.
Airbus has signed a partnership agreement with CFM International (CFM), a 50/50 joint company between GE and Safran Aircraft Engines, to collaborate on this program. The goal is to get the demonstrator aircraft in flight by 2025 and a zero-emission commercial plane (likely not an A380) flying by 2035.
The demonstrator will use an A380 flying testbed equipped with liquid hydrogen tanks prepared at Airbus facilities in France and Germany. Airbus will also define the hydrogen propulsion system requirements, oversee flight testing, and provide the A380 platform to test the hydrogen combustion engine in cruise phase. (See explanatory video below.)

VIDEO: Glenn Llewellyn, Airbus vice president, Zero-Emission Aircraft, takes you inside the #A380 MSN1, an iconic aircraft that will act as a testbed for hydrogen combustion technology. [Credit: Airbus]
CFM will modify the combustor, fuel system, and control system of a GE Passport turbofan to run on hydrogen. The engine, which is assembled in the United States, was selected for this program because of its physical size, advanced turbo machinery, and fuel flow capability. It will be mounted along the rear fuselage of the flying testbed to allow engine emissions, including contrails, to be monitored separately from those of the engines powering the aircraft.
The GE Passport turbofan powers the Bombardier Global 7500, a high-end 10-passenger business jet.

VIDEO: Airbus ZEROe hydrogen combustion technology demonstrator: How it works. [Credit: Airbus]
The hydrogen combustion engine for the test will be located on the outside rear of the aircraft. It will be powered by four liquid hydrogen tanks (surrounded by a hermetically sealed container) located in a caudal position of the A380 test platform.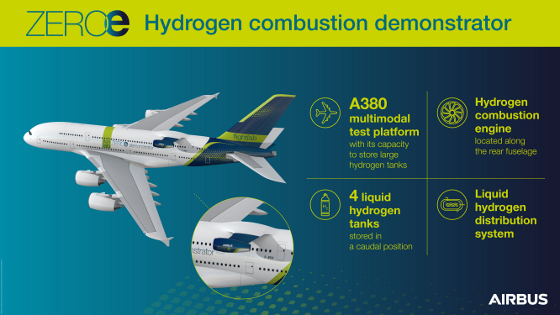 CFM will execute an extensive ground test program ahead of the A380 flight test. It is keen to show that it shares Airbus' ambition of fulfilling the promise they made in signing the Air Transport Action Group goal in October 2021 to achieve aviation industry net-zero carbon emissions by 2050 by developing and testing the technology necessary to make zero-emissions aircraft a reality within an ambitious, defined timeline.
Airbus did not provide any additional information on critical safety measures, fuel costs (comparisons) for using liquid hydrogen, or expected efficiency. We will have to follow along as the demonstrator progresses.
Sources: Airbus, CFM
Published March 2022
Rate this article