Sneak Peek: Mustang Cobra Jet 1400 drag racer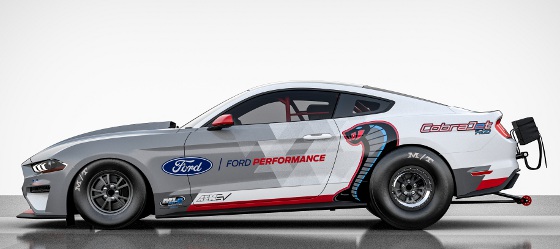 Ford Performance all-electric Mustang Cobra Jet drag racer.
Ford Performance, Ford Motor Co.'s motorsport and racing division, has taken the wraps off its one-off all-electric Mustang Cobra Jet factory drag racer ahead of the vehicle's official world debut this summer. Details are very slim, but the specialty EV is the latest in a growing line of demo and real-world plug-in cars from the Pony car maker.
Ford is pushing to establish that it is a front runner in the United States when it comes to electric cars by creating projects like this to show off its electric powertrain tech. This time, it's in one of the most demanding race environments.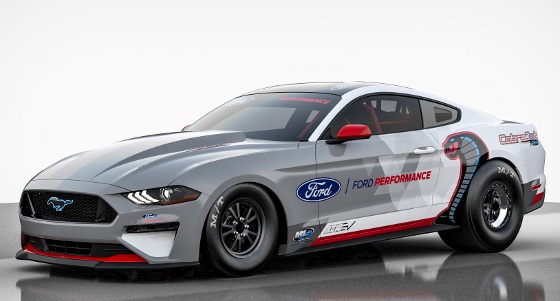 The purpose-built, battery-powered Mustang Cobra Jet 1400 prototype is projected to deliver over 1,400 hp (the reason for the "1400" in its name) and over 1,100 ft-lb of instant torque. That's a lot of power to play with at the strip.
Ford says the Cobra Jet 1400 will tear up the quarter-mile track in the low 8-second range at more than 170 mph. A Ford spokesperson told Designfax, "The car platform is based off the very successful customer sportsman drag racing car that has been winning races for many years."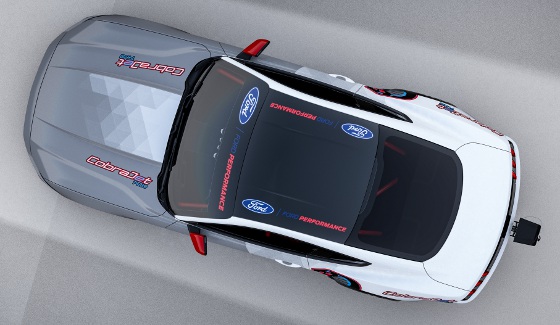 "We saw the Cobra Jet 1400 project as an opportunity to start developing electric powertrains in a race car package that we already had a lot of experience with, so we had performance benchmarks we wanted to match and beat right now. This has been a fantastic project to work on, and we hope the first of many coming from our team at Ford Performance Motorsports," said Mark Rushbrook, Global Director, Ford Performance Motorsports.
Partners on the project included MLe Racecars (vehicle builder, designer, integrator, and tuner), Watson Engineering (chassis support and development, roll cage builder), AEM EV (software and motor calibration and controls), and Cascadia (inverter and motor supplier).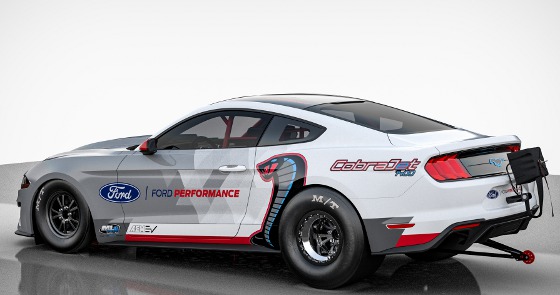 But how long does it take to charge? How many battery cells does it have? Unfortunately, Ford is not answering any meaty questions right now. We just get a taste. Even the video is just a nibble. Like eating a single potato chip, it's unsatisfying. We'll just have to wait and see.
The Cobra Jet 1400 follows closely on the heels of two Ford electric Mustang debuts last November (maybe the first one will give us some clues about how the new electric drag racer was put together).
Mustang Lithium
First was the unveiling of the 900-hp all-electric Ford Mustang Lithium concept show car -- complete with manual gear shift -- at the Specialty Equipment Market Association (SEMA) show in Las Vegas in the first week of November 2019.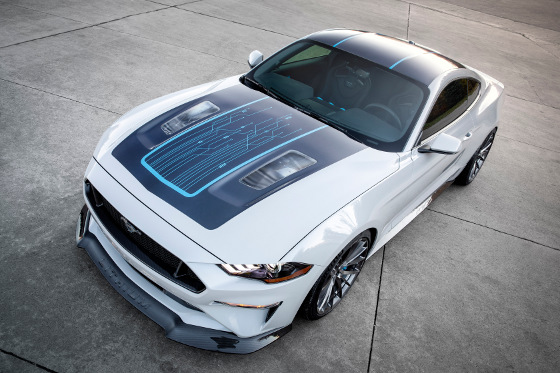 Ford Mustang Lithium concept show car.
Built in a collaboration between Ford and Webasto, the ultra high-performance battery electric Mustang fastback prototype boasts more than 1,000 ft-lb of torque, with more than 900 hp instantaneously available.
The car is low and sleek, with custom carbon fiber body components, a 1-in. lowered stance, and 20-in. forged wheels. In general, it looks like the standard new Mustang. Under the hood, the differences are "electrifying" and include a Phi-Power dual-core electric motor and dual power inverters -- all powered by an 800-V Webasto battery system with EVDrive Technology that can discharge a mega-watt of electrical energy.
Mustang Lithium features a manual transmission and uses a drag-strip-proven Calimer-version of the Getrag MT82 six-speed transmission with billet internals to handle the 1,000 ft-lb of torque.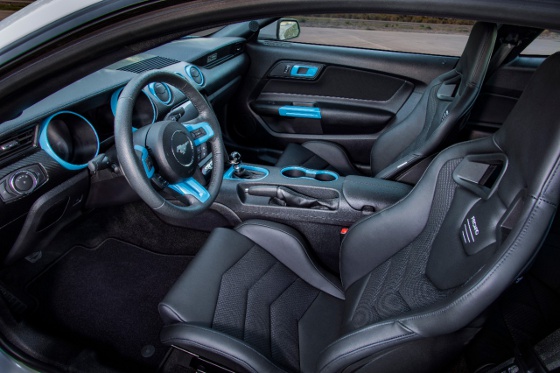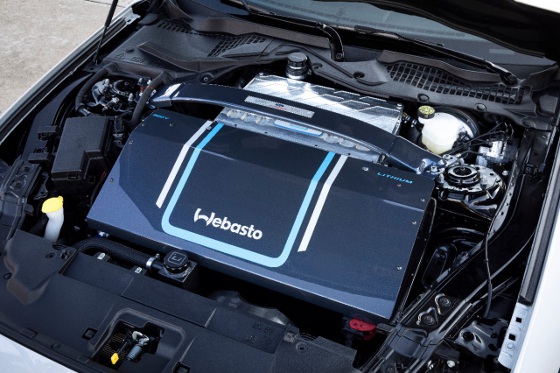 Rather than build a prototype on a new "skateboard-type" platform specifically for EVs, it looked like the Ford team took a shortcut to modify an existing design of the world's best-selling sports car to achieve electrification.
The car's 800-V system is twice the voltage that most electric cars have. This design allows the system to be lighter, more powerful, and generate less heat and more electric force than most battery-electric systems on the road today.
Read more details in Designfax here.
Mustang Mach-E SUV
On November 17, 2019, Ford made its biggest announcement to date in the EV realm. The company was going to make a Mustang SUV -- but not just any old SUV. It was going to be an all-electric car.
The Mustang Mach-E SUV, still scheduled to be available late 2020, will have a host of options, including a 459-hp GT Performance Edition (available 2021) with an extended range of 300 miles that does 0 to 60 in around 3.5 sec.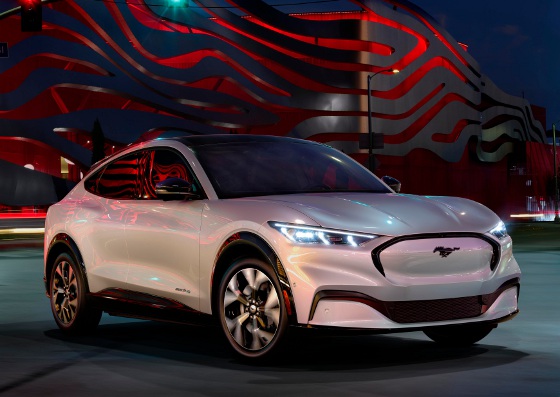 Mustang Mach-E SUV.
The electric Mustang Mach-E will start at $43,895 (Select model), which Ford is counting on being a sweet spot for early buyers since the cost of the five-seater goes down to $36,395 once a maximum $7,500 Federal Electrics Drive Motor Vehicle Tax Credit is applied.
There are lots of options to make that price climb fast, though. Let's take a quick look at what Ford is offering.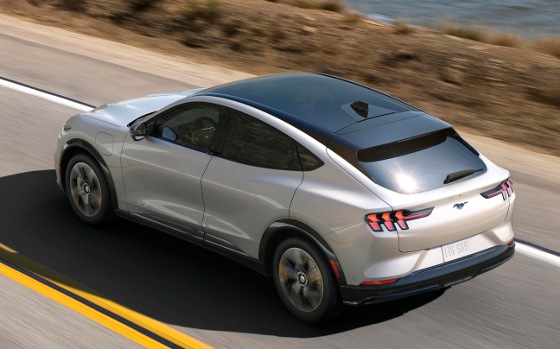 The Mach-E is sleek, and from the back you can really catch that Mustang trademark look, due mainly to its rear haunch design and tri-bar taillamps. From the front, well, not as much. (What happened?!) The overall size of the car sits between the Ford Escape and the Ford Edge. It is 186 in. long and 74 in. wide, with a wheelbase of 117 in.
It will be available with standard and extended-range battery options with either rear-wheel drive or all-wheel drive powered by permanent magnet motors. Equipped with an extended-range battery and rear-wheel drive, Mach-E has a targeted EPA-estimated range of at least 300 miles. In extended-range all-wheel-drive configurations, Mach-E will sport 332 hp and 417 lb-ft of torque. Ford points out that the all-wheel-drive variation will beat the base Porsche Macan in a 0- to 60-mph sprint.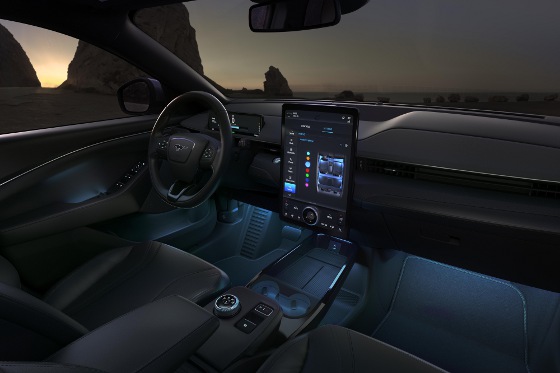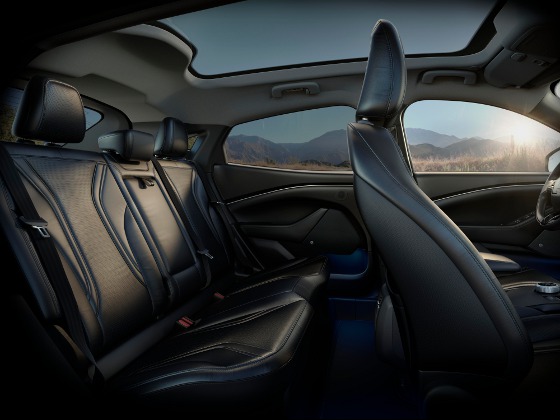 Ford also will offer two special performance versions. The GT and GT Performance Edition are the cars that will do 0 to 60 mph in the mid 3-sec range, making them faster off the line than a Porsche Macan Turbo. Both GT configurations boast 342 kW (459 hp) and 830 Nm (612 lb-ft) of torque.
Read more about the Mach-E is Designfax here.
Ford electric vehicle production
Before the COVID-19 outbreak hit, Ford announced in mid-December 2019 that it planned to invest more than $1.45 billion in two southeast Michigan manufacturing facilities and add 3,000 new jobs.
The plans included investing approximately $750 million and adding 2,700 new direct jobs at its manufacturing facility in Wayne, MI, during the next three years. Installation of new equipment to support production of the all-new Ford Bronco and Ford Ranger was part of the initiative, as well as creating a new modification center at the Wayne location that also aimed to complete Ford's first autonomous vehicles.
At Ford's Dearborn, MI, manufacturing site, Ford was set to add 300 jobs and invest about $700 million to support production of new electrified variants of its F-150 truck, producing both a F-150 hybrid and a fully electric F-150. Ford also aimed to create a new operation in Dearborn to assemble battery cell packs for the F-150 hybrid and all-electric F-150.
No word yet on how or when these plans will all come together.
Sources: Ford Performance, Ford Motor Co.
Published April 2020
Rate this article