| | |
| --- | --- |
| May 03, 2022 | Volume 18 Issue 17 |
---



Stuck on Coil Springs?
Smalley Wave Springs can replace conventional coil springs while occupying only 50% of the space and providing the same force and deflection. Over 4,000 springs are available from stock in carbon and stainless steel or utilize Smalley's No-Tooling-Cost™ manufacturing process on custom designs, available from .118" to 120". Free samples are available for testing.
Learn more.
---
---


Small installation space?
Don't compromise on performance.
Optimal application design or maximum torque? With FAULHABER's BXT series of flat motors, developers get both. The series is designed as an ultra-compact system solution. With coordinated stainless steel planetary gearheads and integrated encoder and speed controller, it offers exceptional torque and high positioning accuracy in the tightest spaces.
Learn more.
---
Feature articles


Additive manufacturing: To the Moon and beyond
Every Apollo lunar lander and service module had four "quad" reaction control system (RCS) thrusters to control the spacecraft's roll, pitch, and yaw during flight. The Orion spacecraft, aiming for the Moon, will need thrusters too -- particularly to get back to Earth. Learn how Aerojet Rocketdyne used metal 3D-printing tech from Velo3D to make this critical flight component lighter, smaller, and much less expensive than its predecessors.
Read the full article.


Linear guide rails provide long-running precision
Linear guide rail systems from JW Winco provide precise, quiet, and dynamic linear movements -- even for extremely demanding applications. The company has now produced its modular system in stainless steel (linear guide rails GN 2492 and matching cam roller carriages GN 2494). Also available are the C-shaped guide rails GN 2422 that come in four heights and are made of nonwarping, zinc-plated, hardened and ground steel. Simpler variations for standard applications are available as GN 1490 in two heights.
Learn more.


All about the ceramic matrix composites in GE's adaptive cycle engine for F-35 fighter jets
GE has provided details of using ceramic matrix composites (CMCs) in the XA100 adaptive cycle engine for the Lockheed Martin F-35 jet fighter. The new engine can switch between high-thrust and high-efficiency modes. The CMC super materials have helped create an engine "with 25% better fuel efficiency, 10%+ better thrust, and significantly more thermal management capability." CMC components can withstand more heat, weigh far less than metal ones, and are stronger and longer lasting.
Read this informative GE blog.


Robot-ready frameless servo motors
The new TBM2G series of frameless servo motors from Kollmorgen introduce new features that simplify the design of collaborative, surgical, aerospace and defense, and other robots while delivering high-performance torque in a lighter, more compact package. These next-gen motors enable robots with lower joint weight, higher load-carrying capacity, improved energy efficiency, lower thermal rise, and faster, smoother movements. Sized for a perfect fit with readily available strain wave systems.
Learn more.


Plastic bevel gears are a cost-efficient alternative to metal
igus has expanded its gear offering with bevel gears made of its iguform S270 and igutek P360 high-performance plastics. These abrasion-resistant, self-lubricating gears are a lightweight and maintenance-free alternative to traditional metallic gears. All bevel gears are available in six different transmission ratios, plus seven modules for power transmission.
Learn more.


Long-range retro-reflective photoelectric sensors overcome interference
The new 36 series of sensors from Leuze are suitable for demanding requirements in intralogistics, packaging systems, and the automotive industry. They detect objects with different optical properties -- even at a great distance or when sources of interference are present (such as film-wrapped pallets, vibration, or ambient lighting). Available as sensors with background suppression (range to 2.5 m), as retro-reflective photoelectric sensors (up to 17 m), or as throughbeam photoelectric sensors (up to 80 m).
Learn more.


Design Guide: Automotive electronics fasteners
The PennEngineering PEM Automotive Electronics Fastening Design Standards catalog showcases the company's extensive portfolio of standard fastening solutions. It includes illustrations showing where their self-clinching fasteners, threaded inserts, and compression limiters are typically used within automotive electronics applications and provides performance data and technical specifications. A very good resource. PDF download with no registration.
Get your Design Guide today.


New LEGO Star Wars Luke Skywalker Landspeeder set
May the 4th be with you! The 1,890-piece Star Wars Luke Skywalker Landspeeder is the latest set in the LEGO Ultimate Collector Series (UCS). Released to celebrate Star Wars Day, the new Landspeeder is almost 20 in. long and features the two-seater cockpit, the turbine engine without a cover, the iconic curved cockpit windscreen, plus exclusive C-3PO and Luke minifigures. The Millennium Falcon, A-Wing, Republic Gunship, and the recently released AT-AT are also part of the UCS series.
Learn more.
---
Most popular last issue


New NASA alloy built to handle extremes
NASA innovators recently developed a new metal alloy that can endure temperatures over 2,000 F, is more malleable, and can survive more than 1,000 times longer than existing state-of-the-art alloys. It affords engine part designers new flexibilities like lighter materials paired with vast performance improvements.
Read the full article.


First Lexus all-electric: 2023 RZ 450e
Lexus has graduated from offering hybrids to its first globally available battery-electric car. Slightly smaller than the gas-powered RX SUV, the dual-motor, all-wheel-drive RZ 450e is a luxury five-seat crossover with dynamic driving characteristics and a forward-thinking technology suite.
Read the full article.
---
Videos+: Technologies and inspiration in action
Meet the new FANUC ROBODRILL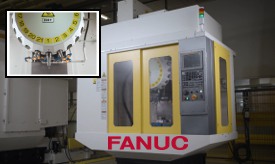 The new FANUC ROBODRILL Plus vertical machining center offers a wide range of advantages in terms of speed, performance, ease of use, and automation. With small, medium, and large models to choose from, ROBODRILL Plus offers maximum machining performance for nearly any size part and production requirement. These machines are enhanced for 5-axis operations and faster cycle times, featuring unbeatable tool change time up to 0.7 sec and a turret capable of handling tools weighing 4 kg.
Watch how it works.
---