| | |
| --- | --- |
| December 28, 2021 | Volume 17 Issue 48 |
---



Motors for model train meet demanding requirements
Building an N-gauge (1:160) model train system involves working with very small units. The 1930s-inspired BR 70 locomotive from Fleischmann is only 2.25 in. long when measured buffer to buffer. As on large locomotives, traction (and on the model, power transmission) between the wheel and the track is a crucial factor. To give the unit appropriately scaled big-train power with low vibration and noise, the folks at Fleischmann turned to customized DC motors from FAULHABER.
Read the full article.
---
---


Happy New Year from Designfax!
We made it! Woohoo! Thanks to all of our readers, sponsors, writers, and article contributors for supporting us in 2021 -- despite its many serious challenges. We wish all of you a healthy, happy, and prosperous 2022. Hang in there!

Don't forget to pass along your issue of Designfax to an engineering colleague.


And if you're looking to advertise, we can help you out with that too. Designfax can provide a unique and effective weekly direct channel to get your messaging through to our highly qualified engineering audience.
Go to the Designfax advertise page.

---

Feature articles

NASA air traffic management tech rolling out to airports
NASA has transferred findings from an air traffic management project to the FAA for nationwide implementation. The air traffic scheduling tech has already helped save more than 275,000 gallons of fuel annually at one test airport -- enough to fly 185 Boeing 737s between New York and Chicago -- and also reduced taxiway wait-time delays by an average of 15 minutes.
Read the full article.

---


The story of the all-electric Ford F-150 Lightning Mega Power Frunk design
Ford says the design for its new all-electric 2022 F-150 Lightning's Mega Power Frunk began in 2018 as a cardboard box prototype that was "brought to every meeting" to help real-world customers visualize the opportunity the front trunk space could become. Over time, the design evolved to become the largest front trunk in the truck industry, including enough room to hold two golf bags, a special lighting and power system, and a drainable bed that could also function as a large cooler.
Read the full article.


Jaguar handcrafting limited-edition 1953 C-type sports cars
In the this-doesn't-happen-every-day department, Jaguar Classic is handcrafting a limited new run of its iconic Jaguar C-type pioneering race car to celebrate the 70th anniversary of the vehicle's debut. It will be called the Jaguar C-type Continuation and will sport a 1953-spec 3.4-L straight-six engine with triple Weber carburetors. The C-type won Le Mans in 1951, the same year it was unveiled to the world. It introduced aerospace-inspired aerodynamic principles to the sport and, later, disc brakes.
Read the full article.


Roller-type LM guide for ultra-heavy loads
THK's model HRX is the company's roller-type linear motion (LM) guide. It features ultra-high rigidity in addition to the ability to handle ultra-heavy loads. On the HRX, each row of rollers is arranged at an angle of 45 degrees. This ensures the LM block receives an equal load rating (high rigidity) in all directions. Made for the development of high-precision, energy-saving, high-speed machines with long service lives.
Learn more.


Engineer's Toolbox:
All about smart hybrid actuators
Hybrid drives present a practical solution when a position needs to be detected with high precision and moved repeatedly over long travel ranges, or when a target position needs to be reached with nanometer precision. PI gives in-depth illustrations of the different drive concepts in action using incredible motion tech being built into the world's largest terrestrial telescope on a 3,000-m-high mountain in Chile.
Read the full article.


Desktop Metal qualifies commercially pure copper for 3D printing
Desktop Metal has qualified commercially pure copper (>99.95% purity) for additive manufacturing on its Production System platform, which leverages patent-pending Single Pass Jetting (SPJ) technology designed to achieve the fastest build speeds in the metal additive manufacturing industry. Customers can now leverage SPJ tech for the production of high-performance copper parts at scale across a broad variety of industries, including automotive, aerospace, and electronics.
Learn more.


Boost productivity with OnRobot's all-electric VGC10 vacuum gripper
OnRobot's versatile VGC10 vacuum gripper enabled Sydney, Australia-based injection molding experts Designed Mouldings to boost productivity and reduce cycle times through automation of key assembly processes. The low-cost, all-electric VGC10 easily completes 20,000 product runs in 24 hours -- three times faster than manual labor -- freeing workers to focus on higher-value tasks. And with no external air supply to worry about, the VGC10 supported easy deployment with excellent results.
Learn how.


M12 connector simplifies sensor and actuator applications
binder USA has announced a new two-piece M12 circular connector that offers versatility with several special features, including a square flange housing for easy assembly and a multi-position, lockable A-coding that supports variable cable installation. The new connectors simplify making secure sensor and actuator connections in applications such as factory automation and robotics.
Learn more.


First virtual reality training program for injection molding
Dip your toes into the metaverse. Kruse Training, a developer of interactive online training programs for part/mold designers and processing engineers, will launch the first virtual reality training program for the injection molding industry at the Plastics Technology Expo 2022 (PTXPO) March 29-31 in Chicago. Show attendees can try out the new VR product, which is a component of Kruse's Molding Process Development training section, to walk and work through individual molding setups and processing tasks, giving them the skills and confidence to advance to the next level of molding challenges.
Learn more.


Stepping motor driver with resistorless current sensing
Toshiba Electronic Devices & Storage Corp. has added the TB67S539FTG to its lineup of stepping motor driver IC series that support constant current control for office automation, commercial, and industrial equipment. The driver incorporates Toshiba's latest DMOSFET device, which allows it to realize a motor output voltage rating of 40 V and a motor output current rating of 2.0 A. The use of a current detector for constant current motor control eliminates the need for an external current sense resistor.
Learn more.
---
Most popular last issue


You gotta see this: Robot hive packs orders
Watch as Tom Scott, science and technology reporter, tours Ocado's seven-football-fields-long grocery-packing warehouse southeast of London where about 2,300 bots controlled by The Hive Mind artificial intelligence move more than 1 million items per day. A single bot (top speed 14 km/h) can transfer items in three dimensions, often working with only a 5-mm gap between robo units. A Designfax reader tipped us off to this incredible video -- one of our favorites of the year -- and we are really glad he did.
View the video.
---
Videos+: Technologies and inspiration in action
Neat. Fully automated mixed-SKU palletizing
Mujin helped PALTAC open a new generation of logistics centers by transforming manual case packing into a robotic mixed-SKU case packing system that can work with pallets, cages, and carts. Mujin's intelligent pack formation computation works closely with their proprietary 3D Vision and Motion Planning tech. Automating this process doubled productivity and reduced labor by 90%. This is just one example of a difficult robotic task that can be solved with Mujin Control. Mujin, a Japanese industrial robotics company bringing machine intelligence to robots throughout Asia since 2011, has established U.S.-based Mujin Corp. and recently opened its first office in North America.
View the video.
James Webb Space Telescope deployment sequence will be an incredibly tricky affair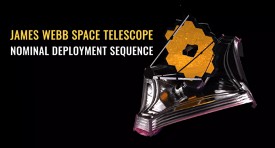 A game-changing new telescope was blasted into space Christmas morning to embark on a nearly 1-million-mile orbit around the Sun to seek light from the first galaxies in the early universe and to explore our own solar system and nearby exoplanets. NASA's James Webb Space Telescope, a joint effort with the European and Canadian Space Agencies, is the world's largest and most complex space science observatory and will now begin six months of commissioning in space. It carries four state-of-the-art science instruments with highly sensitive infrared detectors of unprecedented resolution. Eventually, Webb will unfold a five-layered tennis-court-size sunshield to block its key instruments from the Sun's heat and also deploy a 21-ft-diameter primary mirror made up of 18 hexagonal mirrors. The full deployment sequence is extremely complicated and includes myriad unfolding parts and 180 non-explosive actuators. Good luck, NASA.
View the video.
---