| | |
| --- | --- |
| January 18, 2022 | Volume 18 Issue 03 |
---
---


Mini-Controller? Don't dispense with dynamics.
With the MC3 MINI version of the new MC 3001 ultra-compact series of Motion Controllers, developers solve space problems in applications that call for both high control dynamics and high performance. High PWM frequency and integrated thermal models protect the motor from overheating here. Applications include robotics, automation technology, machine construction, and medical and laboratory technology.
Learn more.


Top 10 ways to save on CNC machining
CNC machining follows a few important rules like rounding corners, machining pockets, and maintaining wall thicknesses to specific ratios. Reducing complexity reins in this process. Watch and learn as experts from Xometry lay out their top recommendations, which could save you time, money, and a manufacturing headache or two. Excellent info.
View the video.


Next-gen adaptive resistance welding controller
Bosch Rexroth has launched its PRC7000 family of high-speed automated welding controllers, which feature advanced processors and new software to help manufacturers maximize welding throughput and quality. The PRC7000 provides the highest-quality weld control and ultraprecise adjustment of the welding current to eliminate spatter and expensive reworking. Innovative software tools and a modular design enable up to 90% faster commissioning. The PRC7000 can store up to 10,000 welding programs that can be easily built and selected via a drag-and-drop graphical interface.
Learn more.


'Basics of Static Electricity' white paper from EXAIR
The "Basics of Static Electricity" white paper presents 20 comprehensive and full-colored pages on the causes of static electricity, how it develops, and solutions for combatting it in manufacturing processes. Static electricity is a product of non-conductive materials coming into contact and separating, or creating friction between them, leading to imbalanced ions. EXAIR Static Eliminators restore this balance and assist in maintaining proper process speeds, preventing product damage and injured employees.
Learn more.


New nickel-based superalloy for 3D printing
Velo3D has qualified the nickel-based superalloy powder Amperprint 0233 Haynes 282 for use in its Sapphire family of printers. The material is designed for high creep strength, thermal stability, weldability, and fabricability not commonly found in other alloys. This superalloy is ideal for high-temperature structural applications like energy generation, gas turbines, and space launch vehicles to build parts like heat exchangers, combustors, nozzles, combustion liners, rocket engines, and shrouded impellers. Shown left is a combustor liner made with the new superalloy. It features 23,000 unique holes for optimized air-to-fuel ratios and internal channels for regenerative cooling. The part is shown as printed, with no supports.
Learn more.


COMSOL Version 6.0 is here -- includes Model Manager and Uncertainty Quantification Module
Version 6.0 of COMSOL Multiphysics software has been released. It introduces the Model Manager, a new workspace that enables efficient simulation data management and collaboration. Also new is the Uncertainty Quantification Module, an add-on product that uses probabilistic design methods to quantify uncertainty in analyses and predetermined safety margins. Version 6.0 also brings major improvements to the solvers with performance speedup by a factor of 10 in engineering areas such as heat radiation and models subjected to nonlinear structural material behavior.
Learn more.
---
Most popular last issue


Most Popular Items 2021: Part 1
Tesla valve, Ford F-150 Lightning EV, 2023 Corvette Z06, Airless bike tire, What motors drive the Mars helicopter?, F-35 Lighting jet fighters drone-mounted inspection, Top Products, Top Applications, and more.
Read the full issue.
---
Videos+: Technologies and inspiration in action
Application Focus: Components for endurance tester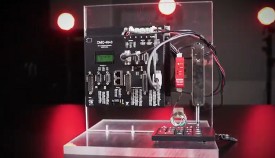 Successful manufacturing automation systems require consistent results and durable components to meet high cycle counts. This application explains how the components from FUTEK (load cell and differential strain gauge amplifier), Galil (motion controller), and SMAC (moving coil linear actuator) work together to create a robust endurance testing system. Learn the basics so you can grow your knowledge base.
View the FUTEK video.
---