| | |
| --- | --- |
| November 01, 2022 | Volume 18 Issue 41 |
---



New Tapered Section Retaining Rings
Smalley is bringing you even more retaining ring solutions! When you need a quick and economical heavy-duty ring, our newest standard series, Tapered Section Rings (circlips), is here to secure your assembly needs. They can be axially installed into a bore/shaft groove to safely secure assemblies in place. In stock from 0.25 - 3", or 3 - 75 mm in Spring Steel SAE 1060 and 1074.
Learn more and request no-cost samples to test.
---
---


Make Automation Work for You
With Learn OnRobot, detailed knowledge and resources on automating robotic applications are easily accessible to all. The FREE learning platform gives intuitive and practical guidance on how to integrate, operate and successfully deploy OnRobot solutions into collaborative applications on any leading robot brand.
Find out more.
---
Feature articles


Sikorsky RAIDER X attack copter prototype 92% complete
The U.S. Army's Future Attack Reconnaissance Aircraft design competition has been narrowed down to two contenders: the Sikorsky Raider X and the Bell 360 Invictus. Sikorsky says the Raider X prototype is now 92% complete. The single-engine compound coaxial helicopter with a push propeller will reach speeds of more than 250 knots (over 280 mph), almost double the speed of a conventional civilian helicopter.
Read the full article.


Solar-paneled canal covers to be tested in California
The Turlock Irrigation District has approved piloting the first-in-the-nation construction of solar panels over water canals in California. Researchers estimate that covering the 4,000 miles of California's canals could reduce evaporation by as much as 82%, save enough water to meet the residential needs of more than 2 million people a year, and generate roughly a sixth of the state's current installed electricity capacity.
Read the full article.


Kia all-electric EV6 GT: 576 hp and surprisingly sophisticated design
What snazzy new hatchback crossover can out-accelerate a Ferrari Roma or Lamborghini Huracan Evo Spyder RWD? Kia says it's the brand's new 576-hp, all-electric EV6 GT. Featuring higher-end styling cues and dual electric motors, the EV6 GT can hit 0 to 60 mph in 3.4 sec -- and it's got a pretty sweet, racing-inspired interior too. This is Kia's first vehicle built from the ground up to be all electric.
Read the full article.


When metals can't take the heat: Silicon Carbide is a top choice for high-temperature wear
Silicon Carbide is among the hardest of ceramics. It retains this hardness and strength at elevated temperatures, which translates into incredible wear resistance. Several grades of Silicon Carbide optimize wear performance for bearings and other parts requiring extreme precision in high-acceleration or aerospace applications. Insaco is the expert in precision machining SiC in applications where thermal conductivity or strength at high temperatures and low density are key.
Learn more.


Heavy duty: Electric actuators open 3-ton bunker doors
Converting a 1960s nuclear-proof bunker into a museum is full of challenges, one of which was to repurpose 3-ton, all-metal nuclear-safe doors as fire doors. But how do you open and close such massive doors safely? Luckily, Thomson Industries' Electrak HD electric linear actuators were up for the challenge.
Read the full article.


New TurboBlast Safety Air Gun for heavy-duty jobs requiring powerful blowoff
EXAIR's new TurboBlast Safety Air Gun is the latest addition to the EXAIR line of Safety Air Guns. This dynamic air gun is capable of producing up to 23 lb of force with a simple press of a button trigger and is the ideal solution for blowoff applications requiring maximum force such as removing stubborn or heavy debris like slag and flash, part drying, or cooling from a distance, as well as heavy-duty cleanup in busy facilities. Available in different flow rates and extensions up to 6 ft long.
Learn more.


Extra-Duty Overhung Load Adaptors
Zero-Max has announced three entirely new Extra-Duty Overhung Load Adaptor (OHLA) models (350, 650, 950). The new designs feature a number of carefully chosen upgrades including spherical bearings, enhanced sealing technology, stronger shafts, and a longer profile delivering increased operating life, heavy load capacities, and higher speed ratings. They provide a solid, permanent mounting surface, eliminating premature motor or pump failure due to axial and radial overhung loads on a motor or pump shaft.
Learn more.


Flat external rotor with encoder
The DF45 brushless DC motors from Nanotec are now available with an integrated encoder. The new flat motors with a diameter of only 45 mm are ideal for applications that require precise positioning in confined spaces such as AGV wheel drives, access control systems, and door drives. The two-channel encoder has a resolution of 1,024 CPR and provides additional Hall signals for commutation. The difference in length between the standard motor and the encoder version is only 2 mm, as the encoder has been completely integrated. The DF45-E has a rated power of 65 W at a rated speed of 4,840 rpm. Custom windings or shafts are also available.
Learn more.


The influence of operating speed on step motor selection
According to the engineers at Lin Engineering, "Frequently, when it comes to step motor selection, users will select a motor with the highest holding torque rating, assuming that it will give them optimal performance. However, it is an improper practice to select a motor based on holding torque alone. In fact, the step motor with the highest holding torque in many situations can prove to be a poor choice -- especially when trying to maximize torque at a desired operating speed."
Read this informative Lin Engineering article.


Smallest all-in-one LIN driver propels relay window lifters
Melexis' new LIN pre-driver IC for relay DC motors offers a combination of high power, compactness, and attractive pricing. The MLX81160 is the latest addition to the company's Gen3 family of compatible embedded motor drivers. Its 48-KB of memory (16 KB ROM for the included LIN protocol and 32 KB Flash for the application software) is suitable for applications like window regulators.
Learn more.
---
Most popular last issue


Cadillac CELESTIQ: All electric, ultra luxury, super pricey
Cadillac says its new handcrafted, all-electric, ultra-luxury CELESTIQ will be the flagship "that reestablishes the iconic brand as the Standard of the World." The dual-motor, all-wheel-drive 17-ft-long sedan boasts 600 hp and a GM-estimated driving range of 300 miles on a single charge -- and each unit will be a bespoke, one-of-a-kind vehicle.
Read the full article.


3D-printing considerations for classic Porsche parts
Nick Allen from 3DPRINTUK talks with Wiesner Design, a company that combines a passion for classic Porsches and additive manufacturing to bring rare and no-longer-available parts back to life. Martin Wiesner explains what parts he 3D prints, what types of 3D printing he uses, and the considerations and tradeoffs involved with different print technologies. Wiesner has also created an incredible 3D-printed 1:4-scale model of the very first Porsche 911 engine ever produced.
Read the full article.
---
Videos+: Technologies and inspiration in action
How to create a perfect technical drawing for CNC machining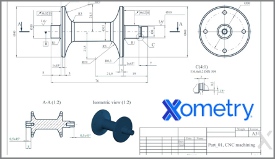 Learn from Xometry how to submit a perfect technical drawing so that your manufacturer can produce your parts and fulfill all of your requirements in the best possible way. Xometry provides 24/7 access to instant quoting and manufacturing feedback on precision CNC machining, 3D printing, sheet metal fabrication, urethane casting, and injection molding services -- all available thanks to their extensive Partner Network.
View the video.
---