| | |
| --- | --- |
| February 21, 2023 | Volume 19 Issue 07 |
---
---


Superalloy created using 3D printing
Researchers at Sandia used a 3D printer to create a superalloy with an unusual composition that makes it stronger and lighter than state-of-the-art materials currently used in gas turbine machinery. The findings could have broad impacts across the energy sector.
Read the full article.


New Maserati GranTurismo: ICE or electric, it's delicious either way
Maserati's new GranTurismo coupe combines the high performance typical of a sports car with the comfort suitable for long distances. With two powerful internal combustion engine choices (490 and 550 hp) and the brand's first all-electric option that cranks out more than 700 hp, it's a beautiful, functional, and smartly updated classic with high-end racing tech inside.
Read the full article.


ScanCobot: Easy entry into 3D metrology automation
The GOM ScanCobot is a mobile measuring station with a collaborative robot, a motorized rotation table, and powerful software that is smart enough to figure out the optimal positions to scan to get the most comprehensive profile possible on a part. The system provides cleaner, more accurate data than manual scans. Exact Metrology has the ScanCobot technology at their Milwaukee area office. Learn about its impressive capabilities.
Read the full article.


Gears and gear racks made from polyamide
Gears and gear racks used for transmitting torque and forces within gearboxes are typically made of hardened steel. For many other uses and applications, gears and racks made from plastic are the better choice. These generally require no lubrication and are lighter, quieter, less expensive, and more resistant to corrosion than metal gears. This is why JW Winco has expanded its range with polyamide gears and racks that can transmit high forces and torques. Spur gears EN 7802 and gear racks EN 7822 are made from strong and long-lasting polyamide and are also available in gray or blue for better visual detectability.
Learn more.


Compact stepper drive offers greater smoothness, precision, torque density
Kollmorgen has just released the new P80630-SDN stepper drive. Customers can now benefit from features such as smoothness, precision, and torque across the full speed range in a significantly more compact package that enables smaller, lighter, and more versatile machines. The P80630-SDN is an ideal solution for labelers, indexing tables, CNC machines, packaging systems, pumps, and other single- or multi-axis systems requiring low-speed, point-to-point motion control for fixed loads.
Learn more and get the specs.


How do autonomous vehicles see at night?
Owl Autonomous Imaging is offering a new whitepaper that explains how the Owl Thermal Ranger uses convolutional neural networks (CNNs) to accurately and reliably locate and classify pedestrians and animals in the dark from their own thermal signatures using just one infrared camera. This whitepaper covers the history of convolutional neural networks, how the technology works (AI/machine training), why Owl thinks the CNN approach is the best solution to address current pedestrian safety concerns, and how auto manufacturers can implement it. Very interesting.
Get the Owl AI whitepaper.


Anti-surge resistors handle surges up to 10 KV
High-voltage applications such as HVAC controls, appliance and white goods controls, metering, automation, medical devices, digital storage, and surge-protection devices typically require resistors with high working voltage that may be challenging to find. If the applications are low current or low energy, film resistors are an ideal technology. The ASR/ASRM series from Stackpole offers high working voltages, high pulse voltage handling, and well-defined pulse behavior. For applications with high-voltage surge and low-energy requirements, the ASR/ASRM is a viable replacement for carbon composition resistors, providing improved electrical and environmental stability, better tolerance and TCR, with better long-term availability.
Learn more.


Toroidal propeller: More speed, fuel savings claimed
Is a toroidal propeller the next big thing in boating? Sharrow Marine, creator of the Sharrow Propeller, thinks so. Four years of independent and factory testing have proven this design bests standard blade technology by providing: significant speed increase at mid-range RPMs, up to 30% greater fuel efficiency, less vibration, dramatic noise reduction, more reverse thrust, superior handling in tight turns at high speeds, and more. The Sharrow Propeller has won numerous innovation awards from both boat shows and highly respected marine publications.
Learn all about the development of this very cool technology.
---
Most popular last issue


Drako Dragon: American-made 2,000-hp SuperSUV
If you're interested in finding out what's on the bleeding edge of the expanding electric vehicle market, take a look at the new Drako Dragon, a 2,000-hp, quad-motor luxury SuperSUV being built in San Jose, CA. From its all-carbon-fiber structure to its gull-wing doors and its use of real-time USB networking in place of traditional CAN, Dragon is an exotic limited offering that aims to set a new standard for EV manufacturing and driving.
Read the full article.
---
Videos+: Technologies and inspiration in action
3D Printing: Learn all about GrabCAD Print -- best slicing software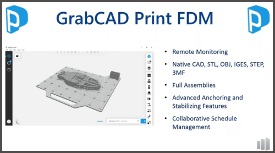 The engineers at TriMech are full of incredibly useful tips when it comes to 3D printing. Learn all about GrabCAD Print, which TriMech calls "one of the most powerful 3D-printing prep tools on the market." Better yet, it's a no-cost resource. Learn about file types and updated capabilities like advanced anchoring and stabilizing, remote monitoring, and even building in collaborative schedule management. You always learn something new from TriMech.
View the video.
---