| | |
| --- | --- |
| April 10, 2018 | Volume 14 Issue 14 |
---



Get up to date on 3D printing tech in under 30 minutes
Donovan Weber, COO at FORECAST 3D, discusses a variety of 3D printing technologies so viewers can learn how speed and cost differ per process. An overview of material properties and how each can be measured in comparison to injection molded parts is also discussed. This useful webinar is the first in a new series sponsored by Xcentric Mold & Engineering. It covers benefits of, and materials for, SLA, FDM, SLS, and PolyJet.
View the on-demand presentation here.
You can always bookmark it and watch it later.
---
---


Atlantic Spring Heavy Wire Die Spring Specialists
Custom die springs manufactured by Atlantic Spring, a MW Industries company, use a broad range of rectangular cross-sections that can be developed out of a variety of materials including titanium, 300 series stainless steel, and 17-7 PH Stainless. Engineering professionals will optimize designs to specifically fit their customer's application for best performance and lowest cost. Custom die springs are ideal in applications where heavy shock load and cycle life are paramount.
Learn more here.


New world-record magnet fulfills superconducting promise
Long in the habit of smashing records, the National MagLab in Tallahassee, FL, just chalked up a new one. On Dec. 8, 2017, a ground-breaking superconducting magnet designed and built at the lab reached a magnetic field of 32 teslas, a third stronger than the previous record. This single leap is bigger than all the improvements made over the past 40 years combined.
Read the full article.


New paper-thin LCD is tough, flexible, and cheap
Optoelectronic engineers in China and Hong Kong have manufactured a special type of liquid crystal display (LCD) that is paper thin, flexible, light, and tough. With this product, a daily newspaper could be uploaded onto a flexible, paper-like display that could be updated as fast as the news cycles.
Read the full article.
Super Hornet cockpit: 'Scrolling' through the battle space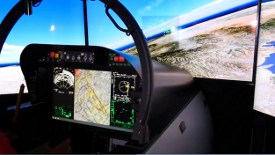 Take a tour of the next-generation touchscreen technology that is the future for the Boeing Block III F/A-18 Super Hornet. The Advanced Cockpit System (ACS) is a 10-in. x 19-in. display that pilots can use the same way we use phones and tablets in our daily lives. Sorry mechanical switch makers, pushing real buttons is largely a thing of the past. But look at all the space that's been freed up!
View the video and learn more.


Ask the Experts:
All about retaining rings and wave springs
Do you know how to measure a wave spring's free height or if a retaining ring can function as a seal? Every year, hundreds of technical questions are submitted through Smalley's "Ask the Expert" page. The company's team of engineering experts answers the questions directly, but they also post them in a blog for sharing. We've put together a selection of our favorites when it comes to retaining rings and wave springs. Very useful info.
Read the full article.


Low-profile rotary air bearing stages achieve superior accuracy with virtually unlimited life
The new A-635/A-637 PIglide low-profile rotary air bearing stages from PI (Physik Instrumente) have no rolling or sliding elements and deliver frictionless, non-contact motion, resulting in negligible reversal error and better wobble eccentricity and velocity stability -- ideal prerequisites for high-end industrial applications such as inspection, metrology, calibration, and scanning, including cleanroom environments. Featuring 3-phase, low-cogging slotless torque motors with velocity to 500 rpm and optical encoders, these stages provide outstanding resolution, repeatability, and absolute accuracy.
Click here to learn more.
Watch PI's Air Bearing Design & Manufacturing Operation Video.


Multi-axis position-holding hinge
The Reell SJ300 Spherical Joint delivers a premium feel and performance in a multi-axis position control device. Featuring Reell's patented SphericalTorq technology, the SJ300 has the ability to adjust up/down, left/right, and a full 360 degrees of rotation. This versatility allows the SJ300 to replace multiple positioning components with a single device, conserving space and lowering cost. Its black glass-filled nylon housing is durable and stylish, making it suitable for applications where it will be visible in the final product. The SJ300 is ideal for applications such as tablet stand positioning, medical lighting, camera stands, automotive mirrors, and office furniture where precision position control is critical.
Click here to learn more.


Where would I get an exoskeleton joint actuator?
maxon motor is now offering a complete joint actuation unit consisting of a pancake brushless DC motor (EC90 flat) with inertia optimized rotor, internal high-resolution 4096 MILE Encoder, planetary gearhead with absolute encoder, and EPOS4 position controller with CAN and RS232 interface. Fitting the 17-bit SSI absolute encoder directly at the joint rotation to a degree will negate the effect of gearhead backlash, giving designers increased positioning accuracy. The unit will deliver 54 Nm of continuous torque and 120 Nm on a 20% duty cycle. The system can be operated on supplies between 10 VDC and 50 VDC, and the actuation speed is up to 22 rpm.
Learn more.


M8 12-pin connectors with gold-plated contacts
Binder USA has added the M8 12-pin to their Series 718 & 768 lines of M8 Connectors. The 12 gold-plated contacts allow for more data connections in a small-form connector, making it easy to combine multiple connections into one connector to save panel space. The IP67-rated connectors are typically used with automation-related products including photoelectric, proximity, and temperature sensors. Available in male or female molded cable and panel-mount connectors with cable lengths of 2 m and 5 m and standard single-wire length of 200 mm.
Click here to learn more.


Full line of industrial laser modules
BEA Lasers' full line of ruggedized Industrial Laser modules are now available for use in factories, machine shops, and other harsh environments for alignment and positioning of products, components, and machine parts. The laser diode modules (Series MIL, GPL, SEN, MIC, IND) each include a housing and cable apparatus to alleviate hard wiring for replacements. All are offered with a choice of green or red laser light and include laser dot and line patterns; many available with a crosshair pattern. Most Industrial Laser families are available with 1-, 3-, or 5-mW output power. In addition, BEA's "Yellow Sub" and "Yellow Torpedo" lasers can be used for leveling. Other laser applications include drilling, event detection, edge detection, security, cutting, vision systems, metrology, bar code readers, education, robotic control, and laboratory or test operations.
Click here to learn more.


Be a company hero. Score a cobot on the house.
Have a manual production task that could benefit from automation? Tell us about it and win a Universal Robot! Perhaps a monotonous task that your employees would happily swap for one that requires problem-solving skills or a task that needs to be carried out faster to stay competitive?
Enter now:
---
Most popular last issue


Lightweight metal foam withstands high explosive round
New research from North Carolina State University and the U.S. Army's Aviation Applied Technology Directorate shows that stainless steel composite metal foam (CMF) can block blast pressure and fragmentation at 5,000 ft/sec from high-explosive incendiary (HEI) rounds that detonate only 18 in. away -- much more protection than all other existing vehicle armor materials while lowering the weight remarkably.
Read the full article.
---
Videos+: Technologies and inspiration in action
Compact angle sensor for robotics and other applications
See the robotics video demonstrating ease of programming and robotics application of certain angle sensors from Novotechnik. Novotechnik's Vert-X 1600 Series of angle sensors (shown here) features easy mounting in tight spaces with a 16 mm diameter body. The sensors measure 0 to 360° with linearity ? ±0.3%, 14-bit resolution and repeatability to 0.1°. A variety of analog and digital output options are available.
View the video.


Why do electric cars only have one gear?
Why do electric cars use just a single gear, rather than using traditional transmissions like you'd find paired with internal combustion engines? Electric motors can get away without numerous gears because they are high revving, remain fairly efficient across a very broad rev range, and produce a great amount of torque at low RPM. Jason Fenske from Engineering Explained talks about the pros and cons of electric-car technology and gets into the nitty gritty of gearing.
View the video.


---