| | |
| --- | --- |
| June 26, 2018 | Volume 14 Issue 24 |
---



Cross roller ring can swing the loads
Because it has orthogonally arranged cylindrical rollers, the cross roller ring from THK is a roller bearing with high rotation accuracy capable of bearing loads in every direction. Cylindrical rollers are arranged with each roller perpendicular to the adjacent roller, in a 90-deg V groove, separated from each other by a spacer retainer. This design allows just one bearing to receive loads in all directions. This component is optimal for applications such as joints and swiveling units of industrial robots, swiveling tables of machining centers, precision rotary tables, and medical equipment. Rotation configurations include inner/outer ring, inner ring only, and outer ring only. A new micro cross roller ring is perfect to handle smaller applications.
Learn more about THK cross roller rings.
Learn about the new Micro Cross Roller Ring RAU.
---
---


Download Flexible Circuit Design Guide
Tech-Etch uses advanced techniques to manufacture flex and rigid-flex circuits to exacting customer specifications. Special processes include selective plating a single circuit with two different finishes, contoured circuits with variable metal thickness, semi-additive and subtractive techniques, open window or cantilevered contact leads, plus SMT for component assembly. Tech-Etch specializes in flexible circuits for medical device, medical implant, diagnostic ultrasound, and patient monitoring applications, in addition to telecommunications, aerospace, semiconductor and other high-reliability electronic applications.
Learn about flex circuits and download the guide (no registration required).
---
Feature articles


Robotic Refueling Mission 3 completes crucial series of tests
NASA is developing long-duration mission-critical capabilities with the Robotic Refueling Mission 3. From the International Space Station, RRM3 will demonstrate cutting-edge technologies to store and transfer liquid methane in space. Once proven, the methods can be applied to the storage and transfer of other cryogenic fluids for a variety of missions.
Read the full article.


Volvo's first U.S. factory prepares to crank out new S60 sedans
Following a "build where you sell" strategy, premium vehicle maker Volvo Cars inaugurated its first U.S. manufacturing plant, a state-of-the-art production facility, in Charleston, SC, on June 20. The facility will be the exclusive producer of the new S60 mid-size sports sedan, with plans to crank out 60,000 cars the first year. American-built S60s will be sold in the U.S. market as well as overseas through exports.
Read the full article.


Stepper or servo motor -- Which should it be?
Bring out the full capacity of your machines through the most efficient mechatronic design. Hurley Gill, Senior Applications/Systems at Kollmorgen, outlines servo and stepper motor baseline capabilities for selection criteria like torque, speed, accuracy, and repeatability. Technical advantages and disadvantages are discussed, helping machine designers select the best motor-drive system for their application.
Click here to read: Servo or Stepper: Which Should It Be?
Kollmorgen designs and manufactures innovative motion control systems, including servo and stepper motors, drives, amplifiers, gearheads, and actuators.


Engineer's Toolbox:
Metal tape measure tech grows up
When first-timers see the Zippermast rise into the air from an unmanned vehicle, they are amazed by how high it can be extended. Inspired by the lowly metal tape measure design, the compact and super-sturdy Zippermast consists of three interlocked steel tapes that also function like a locking zipper, lifting cameras and sensor equipment up to 40 ft in the air. A small DC motor from FAULHABER provides the unique design with reliable retraction and extension, all incorporated into an amazingly small base housing.
Read the full article.


Thrust reverser brakes for aviation
SEPAC announces a line of high-performance thrust reverser brakes, which are used to prevent the thrust reversers on an airplane from being engaged in flight. SEPAC's thrust reverser brakes are suitable for any aerospace application and are currently used on platforms such as the Airbus A380 wide-body jet. Highlights include: RPM up to 20,000+, dual coils for superior reliability, 28V for use in standard aircraft or customizable voltage for other applications, multiple discs for high torque in a small package, and aerospace-rated coatings and corrosion protection. In-house staff can quickly customize high-performance, off-the-shelf brakes for other applications.
Click here to learn more.


Brushless motors -- What's the difference?
Brushless motors are used in an extensive variety of OEM applications -- from pick-and-place equipment and robotic joints to GPS-based automated vehicle steering and pumps/fans/blowers. Do you know the difference between a brushless DC motor, brushless servo motor, and brushless torque motor? Learn more about these motors, when they're used, and how to choose the right one for your application. Allied Motion Technologies designs and manufactures precision specialty motion control components and systems.
Read their article now: "Brushless Motors: What's the big difference?"


Did you know you can tint chrome?
Push the boundaries of design. SRG Global, a leading manufacturer of chrome-plated and painted plastic parts for the automotive, commercial truck, and household appliance industries, has introduced its G-Coat tint-over-chrome process solution. The G-Coat process delivers distinct metallic surface finishes for both exterior and interior applications and regularly improves paint adhesion to any chrome-plated plastic part. It offers nearly unlimited custom color options, including a high-optical-density deep black finish not achievable by other technologies. The process also provides enhanced corrosion protection and fingerprint resistance and meets multiple automotive OEM performance standards for basecoat and clear-coat paint systems.
Click here to learn more.


Compact and cost effective: drylin E linear robot
igus has developed a new, compact linear robot that is shipped from stock as early as same-day and offered at a low price of $2,165. The self-lubricating and maintenance-free drylin E linear robot is suitable for a wide range of applications, from pick-and-place technology to medical devices with strict safety requirements. The small, complete solution can carry loads up to 5.5 lb at maximum speeds to 1.64 ft/sec. All linear robots include pre-configured drylin linear modules and linear axes with NEMA stepper motors, as well as the components required for self-assembly. You can also customize your own solution online.
Click here to learn more.
---
Most popular last issue


First look at new Ford Mustang Shelby GT350
Building on a road-course racing and track-focused legacy born in 1965, Ford Performance engineers and designers incorporated the latest advances in tire, aerodynamics, and chassis technology into the 526-hp 2019 Mustang Shelby GT350. "Somewhere, Carroll [Shelby] is smiling," said Hermann Salenbauch, global director for Ford Performance vehicle programs.
Read the full article.
---
Videos+: Technologies and inspiration in action
Intro to using mouse gestures in SOLIDWORKS
Chris Joren, application engineer at TriMech Solutions in Knoxville, runs through the basics of using pre-programmed mouse gestures in SOLIDWORKS to save you time in design work. Mouse gestures are activated by simply right clicking and dragging your mouse in a certain direction. This direction corresponds to a SOLIDWORKS command that is set by you in the customization window. Very useful tips.
View the video.
Solving analog-to-digital conversion challenges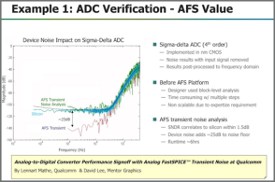 Analog-to-digital converters (ADCs) are critical components in high-speed, high-resolution applications where an analog or RF signal has to be processed, stored, or transported in digital form. ADC performance requirements vary by application and include resolution, dynamic range, linearity, power consumption, speed, bandwidth, SNDR (Signal-to-Noise and Distortion Ratio), and ENOB (Effective Number of Bits). Watch this short overview video from Mentor to learn more about the key technology challenges associated with ADCs and how the Analog FastSPICE Platform can help address them.
View the video.
---