| | |
| --- | --- |
| May 28, 2019 | Volume 15 Issue 20 |
---



Designing for Manufacturability
Optimizing your part design from concept through production will assist you in eliminating unneeded costs and reduce the time frame to produce your custom, plastic injection molded parts. Learn how to incorporate features like draft, threads, hinges and overmolding in order to gain efficiencies.
Discover manufacturing best practices including:

Learning the basics of the injection molding process.
How to obtain optimal performance out of materials and resins.
Gaining insights on best practices for part design for the injection molding process.
Determining what features to incorporate into your design to maximize time and cost savings.
Avoiding common pitfalls that impact injection mold design.
Download now.
---
---


NOARK Electric Extended Frame Size Contactor
NOARK Electric, a leading low-voltage, electrical product manufacturer, now offers an extended frame size for the Ex9C 1000A. NOARK Electric has extended its Ex9C general purpose contactor product line up to a 1000 ampacity frame size. NOARK's popular line of IEC style of AC and DC contactors are UL508 certified and tested for the NEMA market. With the latest extension of the line up to 1000 amperage, NOARK can now address a much larger portion of the industrial control and automation market. The Ex9C1000 frame size will be offered in a 630, 800, and 1000A offering.
Click for full details


50 Years Ago: Charlie Brown and Snoopy in Lunar Orbit (Apollo 10 -- Part 2)
The Apollo 10 mission was a dress rehearsal for the Moon landing. Once in lunar orbit, the Lunar Module "Snoopy" would descend to about 50,000 ft above the Moon's surface and then travel hundreds of miles from the Command and Service Module "Charlie Brown," simulating a liftoff from the Moon. Then it would attempt a rendezvous and docking with the Command and Service Module. [Countdown Series: 50th anniversary of Apollo 11]
Read the full article.


Solving keyhole formation may be key to better metal 3D printing
Additive manufacturing's promise to revolutionize industry is constrained by a widespread problem: tiny gas pockets in the final product, particularly in metal 3D printing, which can lead to cracks and other failures. These pockets, which can form potentially damaging "keyholes," can undermine consistency in manufacturing and create a hidden danger built into finished products.
Read the full article.


Dodge Challenger, Charger get new Stars & Stripes Editions
Since Dodge says it is the U.S. automotive brand that has the highest percentage of active military buyers, it makes sense that it would make a special nod to servicemen and servicewomen in the form of limited edition Challenger and Charger models. Two of three versions feature HEMI V-8s with 370+ hp under those military-inspired hoods.
Read the full article.


Fly along in Blue Angels cockpit!
Since 1946, the Blue Angels have flown for more than 260 million spectators. Ride along with the Blue Angels Diamond pilots as they perform the Double Farvel over Fort Lauderdale Beach during the 2019 Fort Lauderdale Air Show. The mission of the United States Navy Flight Demonstration Squadron is to showcase the pride and professionalism of the United States Navy and Marine Corps by inspiring a culture of excellence and service to country through flight demonstrations and community outreach. We challenge you to watch this only once! (U.S. Navy video/Released)
Watch and ride in a Blue Angels cockpit.


Top Product: Alternative to traditional drive systems
Nexen Group has introduced a stainless steel version of its patented precision roller pinion system (RPS). The Nexen RPS engages two teeth simultaneously to achieve superior accuracy with zero backlash at any length. The system is also extremely quiet and 99 percent efficient. Stainless steel makes the system corrosion resistant, with a long life of up to 36 million meters. Nexen's RPS provides a low-maintenance, durable alternative to rack and pinion, ball screw, and belt drive technology. The RPS is used for a wide range of applications including laser cutting, plasma cutting, and gantry applications.
Learn more.


How to store epoxy adhesives properly
Check out this tech tip by Master Bond's experts on the proper techniques and methods for storing epoxy adhesive systems. Learn some of the specific requirements for one-component, two-component, and premixed and frozen systems in order to maximize shelf life and optimize performance.
Read the Master Bond tips.


Stepper or servo motor -- Which should it be?
Bring out the full capacity of your machines through the most efficient mechatronic design. Hurley Gill, Senior Applications/Systems at Kollmorgen, outlines servo and stepper motor baseline capabilities for selection criteria like torque, speed, accuracy, and repeatability. Technical advantages and disadvantages are discussed, helping machine designers select the best motor-drive system for their application.
Read the full article.


Small internal mix spray nozzles coat, cool, treat, paint
EXAIR's new 1/8 NPT small internal mix spray nozzles atomize fluids up to 28 gal/hr. Internal mix atomizing nozzles mix the liquid and air inside the cap and produce the finest atomization. They can be used on liquids with a viscosity up to 300 centipoise. Small internal mix nozzles are available in narrow angle round pattern, wide angle round pattern, and flat fan pattern and are used to coat parts in containers, cool laminates, or apply paint and lubricant. They combine liquid and compressed air to create a coating of liquid that can be easily adjusted to meet the needs of your application.
Learn more.


High-deflection thermal gap filler
Laird Performance Materials has developed Tflex HD80000, a high-deflection thermal gap filler combining 6 W/mK thermal conductivity with superior pressure versus deflection characteristics. The combination allows minimal stress on sensitive components while also yielding low thermal resistance. As a result, less mechanical and thermal stresses are experienced in devices designed for telecom, information technology, consumer, industrial, aerospace, and military markets. Gap fillers bridge the interface between hot components and a chassis or heat sink assembly to increase the overall heat transfer from the system.
Learn more.


Remembering those who sacrificed for America
Sure, Memorial Day marks the traditional beginning of the summer vacation season. The three-day weekend involves picnics and barbecues and family trips, but it is also about acknowledging the debt Americans owe those who died to protect the country. By Jim Garamone, Defense.gov
Read the full article.
---
Videos+: Technologies and inspiration in action
Compressed air leak detection you can see!
Fluke Sonic Industrial Imager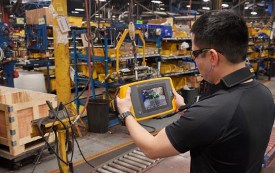 According to the Compressed Air and Gas Institute, the average compressed air system loses 30 percent of its air through leaks, but locating those leaks has been a time-consuming and tedious process. The new Fluke ii900 Sonic Industrial Imager enables maintenance teams to quickly -- and visually -- pinpoint the location of compressed air, gas, and vacuum system leaks even during peak production periods. Leaks can be detected in a matter of minutes. With minimal training, technicians can identify compressed air leaks considerably faster than using traditional diagnostic methods. Now checking for air leaks can be performed during a typical maintenance routine.
View the video.
What is Electroforming? How does it actually work?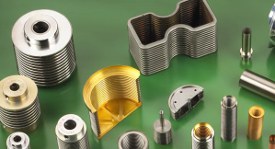 Electroplating may have been around for centuries, but only Servometer excels at manufacturing dynamic convoluted bellows electroforms. Watch Servometer's five-step electroforming manufacturing process and learn how they are able to deliver electroformed components that feature extreme tolerances, complex geometries, lightweight construction, structural strength, and how they can be applied to a variety of applications.
Watch the video.
---