Designfax – Technology for OEM Design Engineers was launched as an exclusive eMagazine in October 2005 following 25 successful years in print. Subscribers to the weekly publication (48 issues a year) are high-level OEM product design engineers and engineering managers who operate in a broad range of manufacturing industries, including automotive, aerospace, appliances, medical equipment, transportation, computer process controls, industrial equipment, and more.
Primary content focuses on the latest exciting applications and products for Electrical/Electronic, Mechanical, Motion Control, Fluid Power, and Materials engineering, including articles on powerful software programs that serve as a primary engineering tool. Take a look at what Designfax offers and then subscribe.
| | |
| --- | --- |
| December 05, 2023 | Volume 19 Issue 45 |
---



Do Not Let High Speeds Hold You Back
Smalley's Revolox® Self-Locking Ring enables you to design for high RPM requirements. The "dimple & slot" design enables engineers to design around high RPM requirements safely and with ease of assembly for high production volumes. From electric motors to transmissions, upgrade to the Revolox today and enjoy the peace of mind that comes with a strong and reliable retaining ring.
Learn more.
---
---
---
Feature articles


Hyundai and Kia unveil new wheel drive system for EVs
What if you took the CV joint, drive shaft, and reducer and moved them all into the wheel for electric vehicles (EVs)? Then, you split the motor into smaller components and move those into each wheel too? That's what a development partnership between Hyundai and Kia has done, creating a new, functionally integrated wheel called "Uni Wheel."
Read the full article.


2024 Ford Mustang GT California Special: Old-school fun
Is it too early to dream of summer? The California Special package returns for the 2024 Mustang GT Premium fastback coupe and convertible models, celebrating visual cues of the 1968 original, only this time around the signature color is a very modern Rave Blue complemented with high- and low-gloss black. Rev up that advanced, 5.0-liter Coyote V8 engine, and remind yourself that warmer weather is just around the corner.
Read the full article.


Bottom tapped rails available for quick ship
Bottom tapped rails are useful for mounting from the bottom of a base, as well as when contamination protection is required -- eliminating the need for bolt-hole caps. See the available models from THK, including standard and radial LM guides and standard and radial caged ball. All units are available for quick shipping.
Learn more.


Non-marring blowoff nozzle protects expensive equipment
EXAIR's new PEEK 1/2 NPT Super Air Nozzle™ has been engineered to produce powerful blowoff without damage to expensive equipment. It features PEEK plastic construction and excellent resistance to damage from harsh chemicals and temps up to 320 F (160 C). The PEEK Super Air Nozzle is great for blowoff, cooling, and drying applications located in general industrial or corrosive environments.
Learn more.


Flex thixotropic one-component dual-cure epoxy
Master Bond UV23FLDC-80TK is a moderate viscosity, cationic-type system that offers both UV light and heat curing mechanisms. It cures readily within 20 to 30 sec when exposed to a UV light source. The adhesive can also undergo a secondary heat curing for shadowed areas, typically curing in 60 to 90 min. The system's adaptability to varying depths and applications, such as encapsulation and bonding, enhances its versatility. Well suited for uses where low stress is critical.
Learn more.


Panasonic solar and EV components available from Newark
Newark has added Panasonic Industry's solar inverters and EV charging system components to their power portfolio. These best-in-class products help designers meet the growing global demand for sustainable and renewable energy mobility systems. Offerings include film capacitors, power inductors, anti-surge thick film chip resistors, graphite thermal interface materials, power relays, capacitors, and wireless modules.
Learn more.
---
Most popular last issue


NASA receives laser data from 10 million miles away
In a technology first, NASA's Deep Space Optical Communications experiment aboard the Psyche spacecraft has beamed a near-infrared laser encoded with test data from nearly 10 million miles away -- about 40 times farther than the Moon is from Earth -- to Caltech's Palomar Observatory in California. This is the farthest-ever demonstration of optical communications.
Read the full article.
---
Videos+: Technologies and inspiration in action
Autonomous excavator builds huge stone wall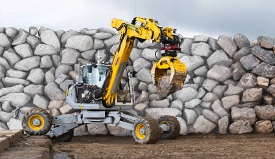 Researchers at Swiss technical university ETH Zurich recently demonstrated an autonomous excavator called HEAP by building a 6-m-high, 65-m-long dry stone wall. HEAP uses sensors that draw a 3D map of the construction site. Stones were excavated locally by the machine. Special tools and machine vision enable the machine to scan and grab a large stone and register its approximate weight and center of gravity. An algorithm determines the best position for each rock, and the excavator places it. HEAP works pretty fast, too. [Photo credit: ETH Zurich/Marc Schneider]
View the video.
---
For advertising opportunities contact:

John Holmes
jholmes@nelsonpub.com
(847) 364-7441

Dan Beck
danbeck58@gmail.com
(518) 852-9624

Questions or comments about the eMagazine or articles? Contact us at: Designfax
If you choose not to receive any more issues of Designfax, please follow this link